Do you have a little one in your house? Are you looking for a way to introduce early reading skills?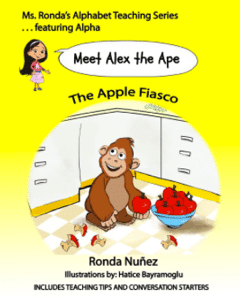 One day, when I was over on Amazon, I found a delightful resource for introducing early reading. It is called "Meet Alex the Ape: The Apple Fiasco".  Alpha, the main character, guides the child through this story, while "teaching" lots of great concepts at the same time.
I shared this e-book with my preschoolers at church and they were enthralled.  And I was so pleased to hear that the author, Ms. Ronda, a homeschooler and a former teacher, was working on a whole series of ABC books, along the same line. Her book for letter B was just added!
This early literacy series is called Ms. Ronda's Alphabet Teaching series and teaches the following skills:
letter recognition
letter sounds
vowel work
colors
shapes
opposites
This series includes simple activities, too. She teaches early phonics without the worksheets!
I wish I had had this series when my child was young. Ronda uses her years of teaching experience to weave the early reading concepts right into the story. She also offers tips on reading for parents. She includes advice on what to teach when. Each book has an story with a simple plot.
I love how Ronda teaches skills through her entertaining stories!  The stories are compelling, the activities are delightful and I just love how she adds in a little character education, too.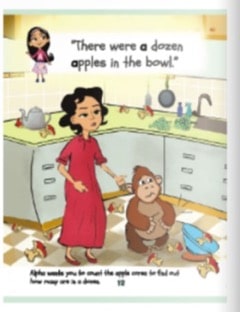 Ronda is mom to three and currently blogs at www.TrueIssuesoftheHeart.com. Her children are all homeschool graduates.
As an occupational therapist (OT), with an Early Childhood Education concentration, I am happy to recommend this series to preschool parents, homeschoolers, and my blog readers, @ BJ's Homeschool, who have little ones who are learning to read. What a great way to get them started!
For more information please go to Amazon, where the author has published these books.  The series "Ms. Ronda's Alphabet Teaching Series," currently includes "Meet Alex the Ape: The Apple Fiasco".and "Bobby and the Basketball Blunder".  Each book is on Amazon for Kindle and is also available to read for FREE on Kindle Unlimited.
Betsy is a blogger who graduated her daughter last year, whom she loved homeschooling from day one.  She blogs at BJ's Homeschool, sharing the early years,  high school, and college, too.  Betsy  is the author of "Homeschooling High School with College in Mind" and also offers free homeschool help to families.
Save
Save
Save
Save