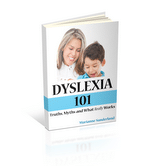 It's such a joyous occasion when our young children learn to read.  Homeschool or not, learning to read is a life changing event.  The whole world opens up like never before.
When our children struggle to learn a task that is basic and fundamental to their learning, it's heartbreaking.  As parents, as teachers, we tend to blame ourselves and start out on a quest for the perfect curriculum.  We are often reluctant to admit that there is a problem.
Our own experience with a struggling reader lead us to do a great deal of research.  One of the thoughts that perhaps crosses the mind of every parent with a struggling reader, is the possibility of dyslexia.  I know we were wondering if our son had dyslexia.  Dyslexia 101: Truths, Myths and What Really Works was a tremendously helpful starting point for us.

How Dyslexia 101 Will Help You and Your Child
What can you expect from the e-book?
– How Early Intervention Really Does Matter
– What Types of Testing is Available for Dyslexia
– Tips for Successfully Homeschooling Your Dyslexic Student
– At Home Reading Curricula
– Navigating the Public School System
– Even a List of Careers that Favor Dyslexics!
If you have a struggling reader, I highly recommend Dyslexia 101: Truths, Myths and What Really Works.  Get the facts and the information you need to advocate for your child.  Help your child on the road to reading confidently and fluently.
Where Can You Find Dyslexia 101?
Find Dyslexia 101 for Amazon Kindle or Paperback here.
Perhaps you have a child that has been diagnosed with Dyslexia?  Dyslexia 101 will give you the encouragement and confidence to help your child navigate the world of reading.