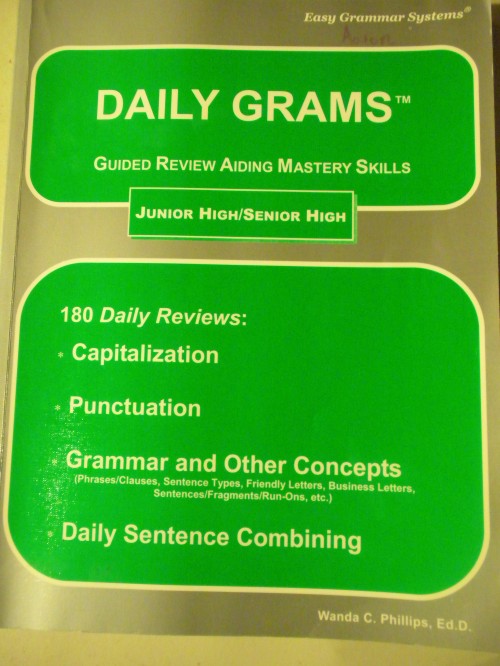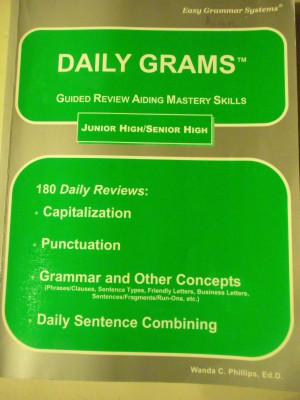 Daily GRAMS (Guided Review Aiding Mastery Skills)
This is one of those simple ideas that I love as a review in our weekly schedule. We thoroughly covered grammar, capitalization, punctuation, and sentence writing in our grammar and logic stage years (grades 4-8). As high school students, they no longer needed a full-blown language arts program, but I also didn't want to get rusty with our grammar terms and other skills.
I introduced Daily GRAMS as a quick and easy way to review and refresh our memories. Each Daily GRAM takes about 10-15 minutes to complete and my boys were able to fit them in as they had time in their morning.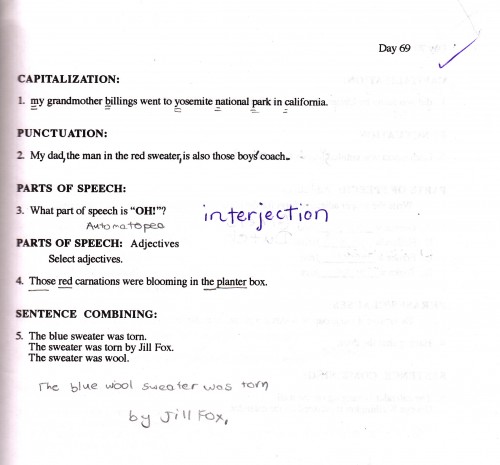 These exercises are not meant to be lessons but rather to review their language mechanics skills. Each GRAM is one page in the workbook and the student can write directly on the page. Categories include capitalization, punctuation, parts of speech, sentence combining, outline formats, and parts of a friendly letter. I liked using Daily GRAMS as a way to spot check any trouble areas my sons might have and then to review briefly as they came up.
All the answers are in the back of the workbook and with 180 GRAMS in this book, we stretched the book out over two years since we didn't complete a GRAM a day. CLICK HERE to pop over to Easy Grammar Systems and view sample pages for the Junior/Senior High Level. You can also find samples for other levels there as well. We did not use Daily GRAMS for any other level so you will need to view the sample and make up your mind whether it fits your language arts needs.
Written by Barb-Harmony Art mom.  She also blogs at http://harmonyartmom.blogspot.com and her business is found at http://www.harmonyfinearts.com. I would love for you to join us for the Outdoor Hour Challenges: http://handbookofnaturestudy.blogspot.com.