Are you looking for a creative way to teach character education to your kids? Have you ever seen it done through a coloring book approach?  Last month I found just that, a delightful character education series of coloring books called Donnie Learns.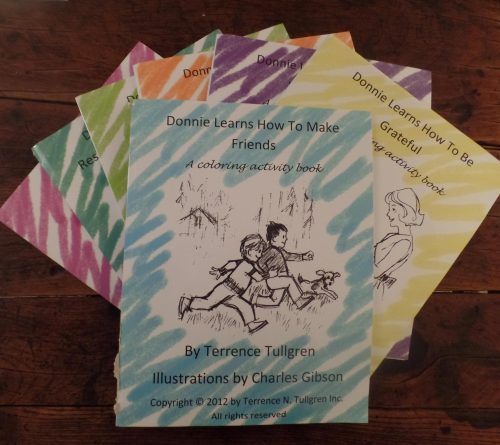 This unique series of seven books is made up of inspiring stories that are paired with coloring activities. The activities teach important character traits, such as gratitude and responsibility.
Each book focuses on one character trait, told through simple stories that can be easily read by young readers around the first grade reading level.  They are also perfect for read alouds.  The Donnie Learns series includes the following books:
Donnie Learns How to Make Friends
Donnie Learns How to Be Grateful
Donnie Learns Self Love (That he is loved)
Donnie Learns How to Do What He Says
Donnie Learns The Value Of Time
Donnie Learns to Value of Earning
Donnie Learns to Take Responsibility for His Actions
Each page includes pencil-line, retro illustrations that go right along with each story and reinforce the lesson.
In Donnie Learns How to Make Friends, Donnie moves from the city to the country, and misses his friends, but is excited that his new house is right next to a forest.  He sees some deer out the window…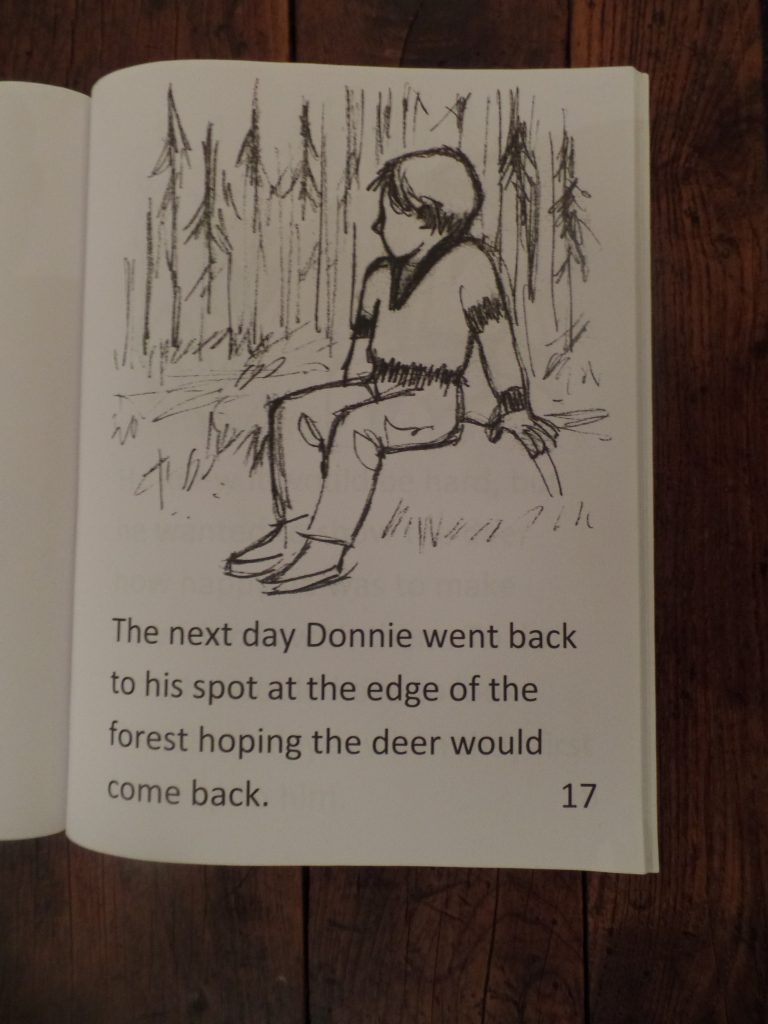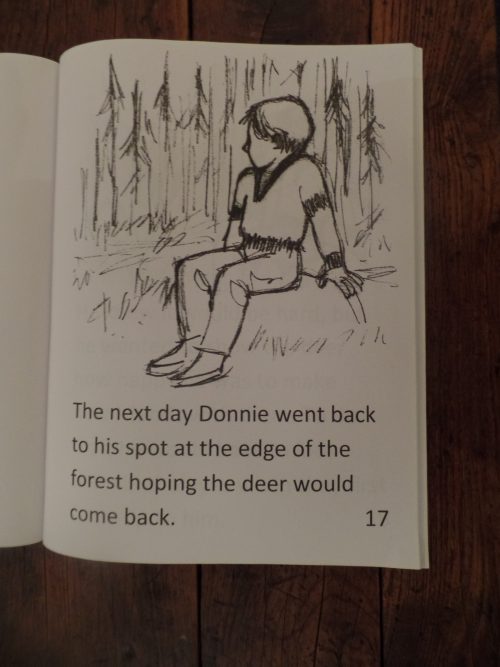 The story goes on to show how he learns how to make friends with the deer. It is a gentle sweet simple story.
"Donnie realized he made friends with all these animals by just being his happy self and looking each of them in the eyes and making a connection. Now he would do this with people." He goes on to make a new friend with a boy who lives next door.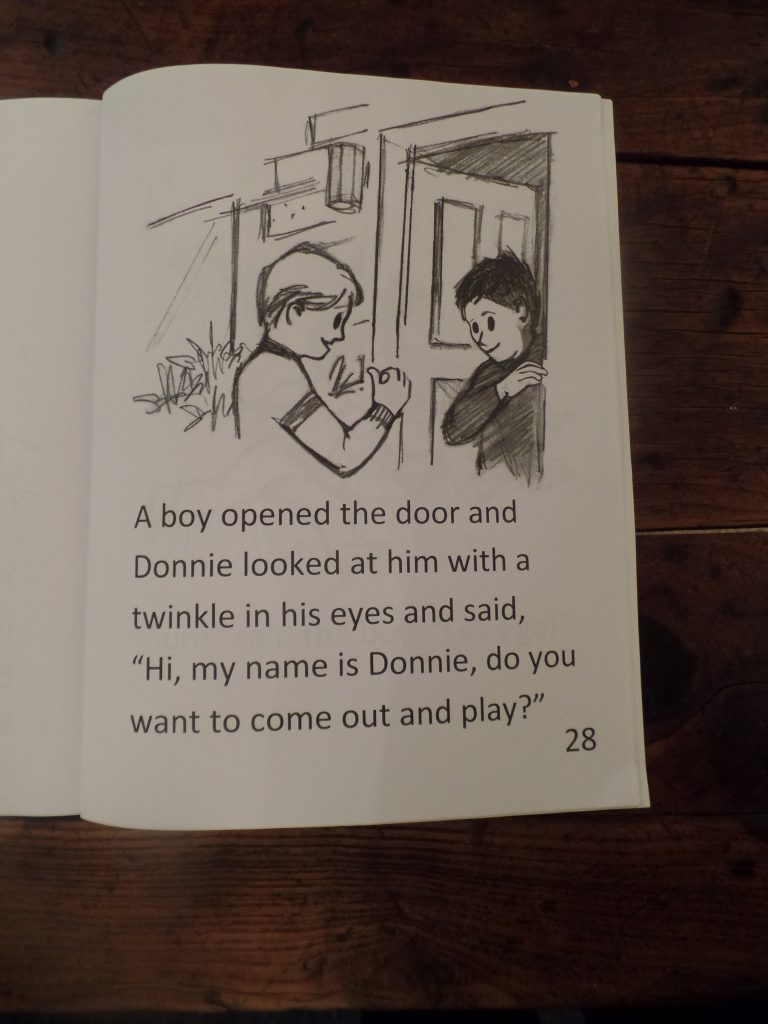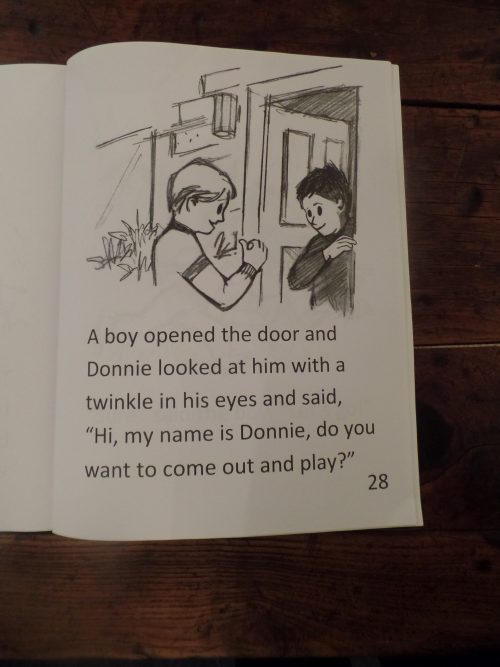 I love how this story teaches young children how to make that first friendship connection. It also can speak to kids on the autism spectrum, as it was initially written for the author's nephew who was on the spectrum.  I like how it encourages  eye contact in friendship building.
This series was written by Terrence N. Tullgren, a producer and artist who lives in Miami, Florida.  He first starting writing stories for his young nephew, then decided to make it a whole series of character education coloring books. His goal is to present essential values for children in a way that touches their young heart and minds.
These books can also work for homeschool reading lessons for your young readers.  They are great for reading practice and are similar to very simple chapter books, like Frog and Toad. The print is quite large and easy to read.  This series is also great for building up the small muscles of the hand while coloring all the pages, for handwriting. And once the book is colored, your young learner can proudly share it with family, grandparents, etc.
I love how Donnie Learns can also spark great family discussions as well, with the fun of retelling the stories, too, for narration. The books are frugally priced at $6.95 each and is available here.
Betsy blogs at BJ's Homeschool about high school and college and all the fun of homeschooling the early years too.  As a veteran homeschooler and the mom of a homeschool grad, Betsy also offers free help to homeschool families.  She is the author of Homeschooling High School with College in Mind, a simple guide to college prep, with tips for making the college admissions process easier for you.
Save
Save
Save