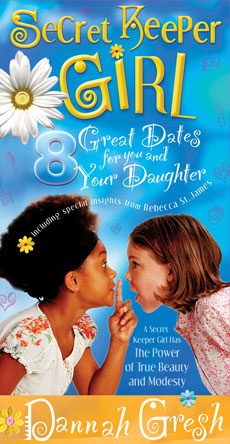 Are you concerned with the clothing styles that are available for young girls today? Do you find it a constant struggle to find clothes that you deem 'appropriate' for your preteen daughter? Do you find yourself explaining time and time again to your daughter why she can't dress like all her friends? Do you long to spend more time with your daughter one on one? If you've answered yes to any of these questions, I urge you to take a look at Secret Keeper Girl: Eight Great Dates for You and Your Daughter Kit 1: Beauty.
This incredible bible study, written specifically for mothers of daughters between the ages of 8-12 and teaches the truth of God's word in a fun and memorable way.  Designed to teach young girls the importance of purity, by focusing on modesty this study teaches each participant that they are a masterpiece created by God! Oh how I wish I could have learned these important truths when I was a young girl!
SKG is set up to be a series of 8 dates for you to embark on with your daughter. These 'dates' include special treats like facials, manicures, a tea party, shopping and a trip to a local art museum while sharing a key scripture on each date and incorporating important biblical truths each step of the way. Each date is written exclusively to moms and daughters, except the final date which is a special father/daughter date that is sure to be a highlight of the study.
If you're beginning to think that this study is purely fun and lacks substance, let me assure you that is not the case. Each study is written to discuss the concepts of  modesty and purity in a tone and language designed to increase understanding of the importance of finding who we are in Christ and not in superficial beauty, clothes or make-up.  Your daughter's confidence will be boosted just to have mom's undivided attention and you will be blessed by the conversations that will be sparked by this study.
The Secret Keeper Girl kit includes the following:
An easy to use Guidebook for moms that includes ideas for each date and discussion questions to use on each special date
A CD that you play at the beginning and end of each date that features author Dannah Gresh and Rebecca St. James
A Diary for your daughter to record her own thoughts
Fun Stickers for your daughter to decorate her diary
This exciting study for young girls will teach girls (and moms):
The importance of dressing modestly
Easy tips for determining if your clothing is indeed modest
The source of true beauty , 'The King is enthralled with your beauty…', Psalm 45:11
Though the author has suggested free and low cost date ideas, some of them will cost a bit of money so it would be wise to look ahead to each date and budget appropriately.
I realize that some mothers could be overwhelmed because they have several daughters that would truly enjoy spending time alone with mom. These dates could easily be adapted to fit your situation. Though these lessons are ideal for mothers and daughters, there is no reason that a young girl wouldn't benefit from this study f it were to include a grandmother, older sister, aunt or close family friend.  In fact, this study could easily be used in a group setting for church groups, or with your own homeschool group.
Attending one of the SKG Bod Squad Events is a super fun way to jump start the fun. Each event includes games, a modest fashion show, and special Truth or Bare fashion tests.
So, if you're looking for a fun, yet 'meaty' enough study for your 8-12 year old daughter, where you can create special memories along the way,  why not consider Secret Keeper Girl?  You can buy your kit for $19 at Pure Freedom.com or slightly less at Christian Book Distributors .  Your daughter will thank you and as a mother of two boys trying to raise children that remain pure in body and mind until marriage, I'll thank you!
Tonya Prater and her husband have homeschooled their three children ages 16, 15 and 13 for the past eleven years using every homeschool method ever invented before settling on what seems to resemble the Charlotte Mason philosophy with an unschooling flair. After traveling for the past four years with her husband's job, they finally took a huge step of faith and became a Full-time-RV-Living-Roadschooling-Family. You can read about the day to day happenings of their journey at Live the Adventure . You'll also find Tonya writing at The Homeschool Classroom and the HSB Company Front Porch.