We've tried many computer and online math drill programs.  We've even used flashcards.
But we often return to the first formal drill program we bought years ago: Calculadder by
Dr. Myers.  It's quick, simple, very effective, and can be used for all the children in a family.
Each drill page has a number of problems, a recommended time limit, and a Bible text that's
sometimes relevant.   The student is expected to fill out the page as quickly and accurately as
possible.
Because some of our children need to repeat pages over and over before they are accurate and
quick enough, I print each page only once and slip it into a clear plastic page protector so
that it's reusable.  The children use erasable markers to do the problems.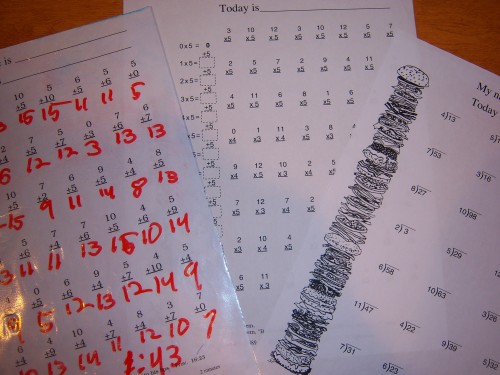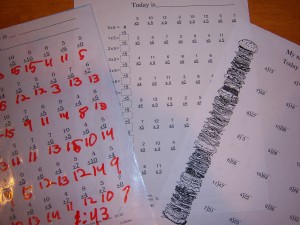 The unique answer key pages have answers written on three sides of the page, making it very
easy to mark the problems rapidly as long as you have a large desk or table to work at. It takes
a lot of space to rotate that answer sheet, especially if it's in a binder as mine is, and I
would prefer an ordinary answer key.
So how do you keep track of how a child has done and when he or she has completed a level?
Dr. Myers has provided super-handy sheets for that, too. They are clear and forgiving, even
when, as you can see, I make mistakes when I enter the scores. This is Miss 9's recent work.
I let her move ahead when she has had several 10's in a row for a particular level.
Occasionally she gets a score of 11!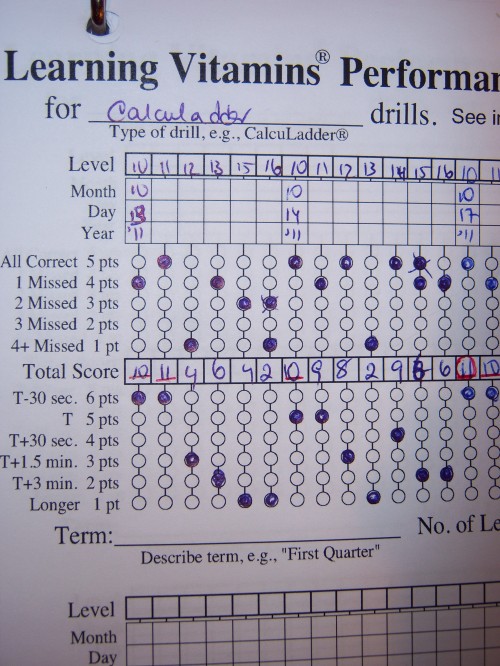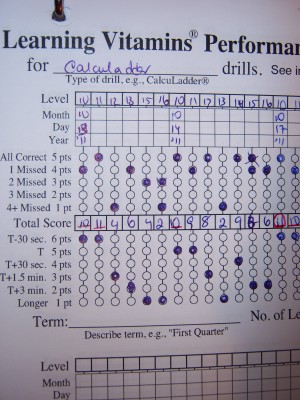 And to top it all off, there are certificates.  Miss 9 is just thrilled with them and is
working hard to finish hers so she can hang it up in her bedroom.
I pulled Calculadder out again this fall (after forgetting about it for a long time) when I
realized that Miss 9 was still using her fingers to add. This was making a long, painful ordeal
out of each math page of her regular curriculum.  By now I've seen a huge improvement in her
addition and subtraction skills as she learns to rely on memory rather than counting.
And this is exactly what Calculadder is designed to do:
The emphasis on accuracy and rapidity "encourages a shift from laboriously calculating answers
to instantly recalling them."  Dr. Myers, scientist and father of 12 homeschooled children,
wrote, "Without this sort of repeated, timed, brief drill, the student may still solve simple
problems by subtly counting fingers even after years of exposure to textbook and workbook materials."
Calculadder is part of the Learning Vitamins series that also includes drill sheets for
alphabetizing and penmanship.  We've enjoyed those too. The entire series, as well as
detailed explanations and free samples, is available from School Made Simple.
As authors here on The Curriculum Choice, we review what we love.  Interestingly enough, Laurie recently wrote about her thoughts of Calculadder.  Two positive reviews must mean a doubly great curriculum!
–Written by Annie Kate, a Christian homeschooling mom of five, who reviews and blogs at Tea Time with Annie Kate.  You can read her other Curriculum Choice reviews here.