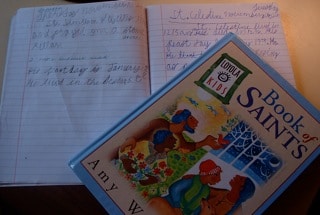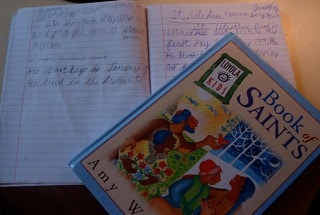 Amy Welborn's Book of Saints is a good choice for a living book about the lives of saints. My twelve year old son reads the four page stories independently at a rate of two per week. He then narrates in writing, often draws a picture or sometimes journals after each reading. When asked what he likes best about the stories he says, "I like reading about the lives of individual people, not that I don't like bible stories, I just like this too."
The book is divided into fifteen parts by theme. Themes include: saints are people who love children, saints are people who love their families, saints are people who surprise others, saints are people who create, saints are people who teach us new ways to pray and ten others. Each story tells us where the saint is from, great for matching up saints to geography studies,  and includes the saints feast day and a well told story about the saints life. Welborn defines saint and reminds us saints are heroes who are honored by the church.
I especially like how Welborn asks her readers to think about how their own actions and experiences relate to the lives of saints. She tells us Saint Nicholas gave to others and asks us what gifts can we share?  After the story of St. Patrick, she asks us to think about our great teachers and offer a prayer of thanks for them. And after St. Christopher, we are asked to think of simple things we can do to make the lives of others easier. These thoughtful prompts make great discussion starters or journal entries.
If you are looking for wholesome yet true saint stories, for a family read aloud or for independent study consider Amy Welborn's Book of Saints with over sixty inspirational stories about saints from around the world. These saint stories are sure to get your upper elementary and preteen children thinking about how they too can let God help them do amazing things.
Susan, who lives in the heart of Dixie with her husband and three school age children, blogs about quilting and homeschooling at Stitchin' Life.