There are many ways to incorporate art into a unit study, but one of our favorites has been to learn about and imitate the art of a particular illustrator. Last year during our study of the ocean we read A House for Hermit Crab by Eric Carle. We enjoyed the illustrations so much that we decided to try making our own art in the collage style that Mr. Carle used for his delightful story about a hermit crab who decorates his shell home as he grows throughout the year.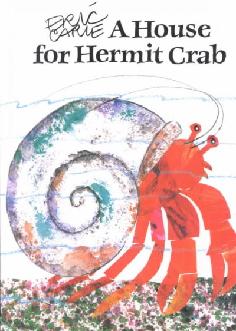 We began by visiting Mr. Carle's interesting website to learn more about his techniques and then came up with our own variation of his style.
This is how we went about it…
Day 1: The children painted an ocean background of blues and greens. While the paint was still wet, they used the tip end of the paintbrush to draw waves into their oceans.
Day 2: Like Mr. Carle, we used different tools and materials to create unique textures on blank sheets of white paper. (I pre-cut sheets of 20 lb. paper in half so that we had several sheets that were approx. 5 x 8 inches.) Each child painted and/or stamped five or six papers using a variety of colors and techniques. The tools they used to make the textured papers included small squares of carpet remnant, sponges, feathers, craft pom-pom's, and q-tips.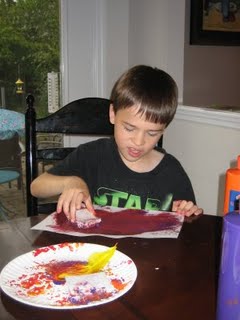 Some of the textured papers they made…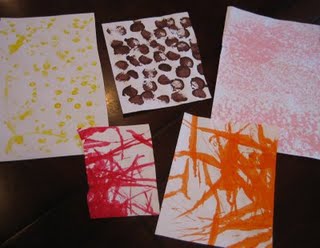 Day 3: Since the point of this project was not to demonstrate drawing skills, but to understand Mr. Carle's collage technique, I pre-cut templates of different sea creatures mentioned in our story. The children traced around these onto their textured papers, cut them out, arranged them, and pasted them onto their ocean backgrounds. I had to help my younger daughter with the tracing and cutting.
The finished product…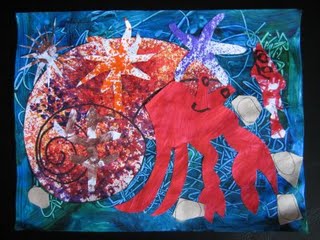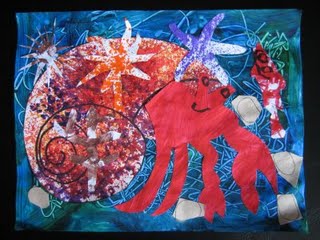 These projects took three days to complete, but I can honestly tell you that my children enjoyed the process and learned a great deal about painting with different textures and making collage art. 
This idea would work well for any type of unit, but especially for the study of a particular illustrator. 
Eric Carle is one of our family's favorite children's author-illustrators. Many of his stories are related to nature, and his magical illustrations never fail to capture my children's interest. Because Mr. Carle's work is such a hit around here, we have incorporated several of his books into our unit studies. Some of our favorites include:
The Very Hungry Caterpillar (This year is the fortieth anniversary of this book. You can find a video of Mr. Carle talking about and reading this story here.)
Brown Bear, Brown Bear What Do You See?
Polar Bear, Polar Bear What Do You Hear?
Does a Kangaroo Have a Mother Too?
Little Cloud
The Tiny Seed 
The Very Lonely Firefly
The Very Quiet Cricket
You can read more about this talented author-illustrator and find a complete list of his books at the official Eric Carle website.
Written by Shannon, who enjoys cuddling up with her children and sharing a beautifully illustrated book with them. She can be found blogging about her family's homeschooling adventures at Song of My Heart.