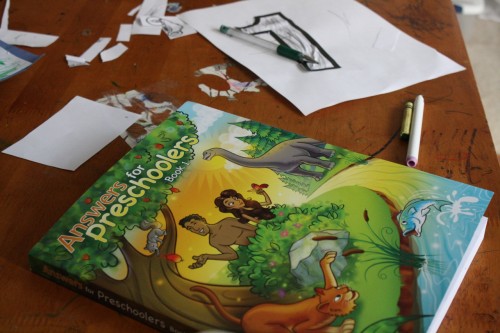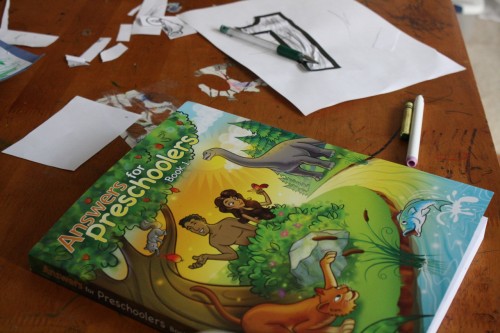 Stop, drop and roll; numbers, matching, science, music, math, cutting and pasting, coloring, calendar and pattern practice, weather and seasons, holidays, physical education, Bible verse memory work and Biblical world view. Definitely a "Complete multi-subject curriculum for preschoolers" ~ Answers in Genesis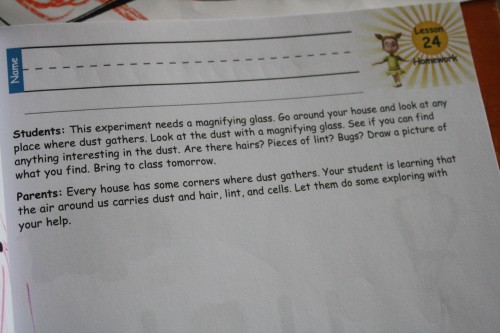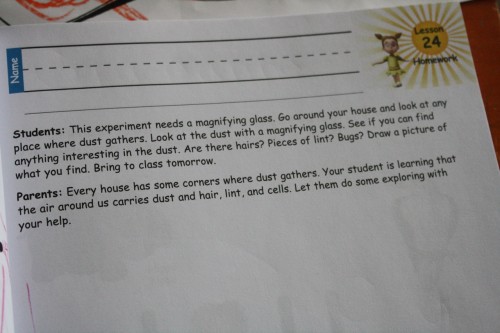 And, look! Right at the top of each page – plenty of practice in name writing.
Here's an example of a quick Answers for Preschoolers science lesson my preschooler enjoyed when she was four: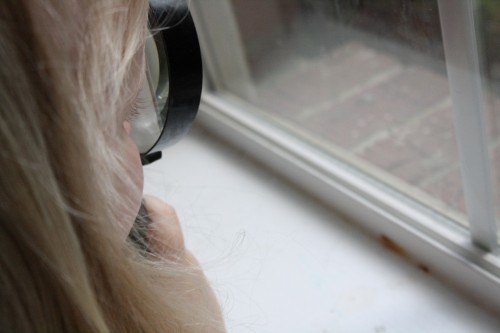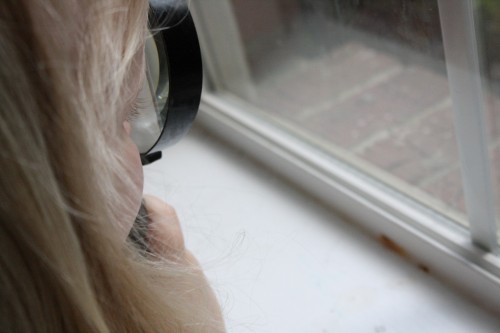 She was to take the magnifying glass and find some dust. To go to the spot where the most dust collected in the house.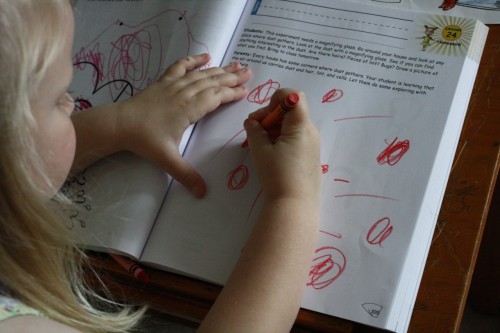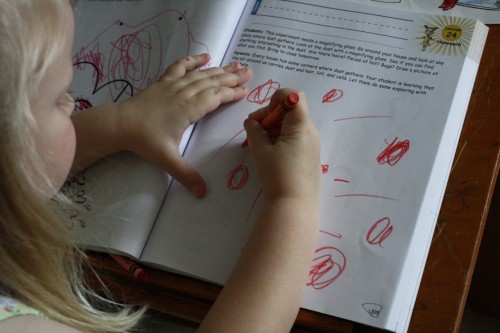 Well, I directed her to the corner of the foyer where there was plenty of dust at the time. But she remembered that her favorite stuffed animals harbor dust mites. So she wanted to take a peek up close. Of course, she couldn't actually see the dust mites but she had fun finding plenty of dusty specimens around the house. Then drawing the dust samples afterwards.
Features:
Biblically-based: Starting at the beginning, in Genesis, children learn Biblical truths with God at the beginning of all things.
Soft bound: (easy to tote around the house. Easy for a preschooler to run and fetch from the shelf!)
180 lessons: 90 lessons per volume
Colorful: full color pages and illustrations throughout.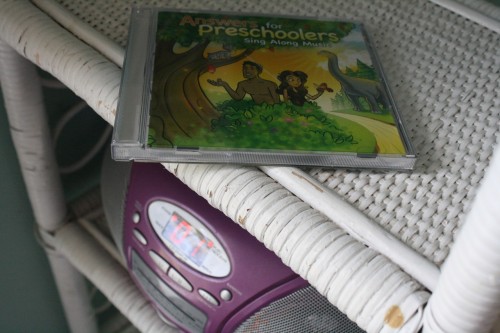 For the teacher: For an additional cost, teacher Guides are available for both volumes. Minimal preparation. Any supplies needed can be gathered from household items. However, an accompanying resource packet is also available: "It contains 284 pages of full-color teaching aids to help teach letters, colors, shapes, numbers, seasons, time, Bible memory verses, and more!" ~ AiG site

In our family: we bought one volume of Answers for Preschoolers and used it a few days a week. Two volumes are available. We mix things up. Some days we enjoy an activity from Answers for Preschoolers, another day maybe an idea from Slow and Steady Get Me Ready (skills, large and small motor) or a Five in a Row selection (wonderful list of books!) and an accompanying activity. Some days our preschoolers join in a Tapestry of Grace (classical history unit study) family activity. It just depends. But being purposeful in my preschool planning and having these resources on hand sure helps with the age range.
It is fun! Which is, of course, the main criteria for your preschooler. We've really had fun with Answers for Preschoolers.
It was easily adaptable for the youngest children: Little brother, age 2 at the time of this photo. He liked to be included in the cutting and pasting.
Available as a kit or as individual purchases: To view both volumes, the teacher guide, the resource packet and the accompanying CD, see the curriculum section of the Answers in Genesis (AiG) site.
We love all the AiG curriculum in our house. We use Answers for Kids for morning quiet time. And, after lunch, we push back the dishes and enjoy a science lesson with God's Design for Science. Preschoolers are always part of the action!

~Tricia faces a daily dose of chaos homeschooling five children. She contributes a blend of writing at parenting and homeschool sites as well as her own daily Hodgepodge.