~Disclosure – Our family received Answers Bible Curriculum High School in exchange for an honest review. All opinions are my own. And just so you know – we love Answers in Genesis! Please read our disclosure policy. Plus, don't miss the giveaway at the end!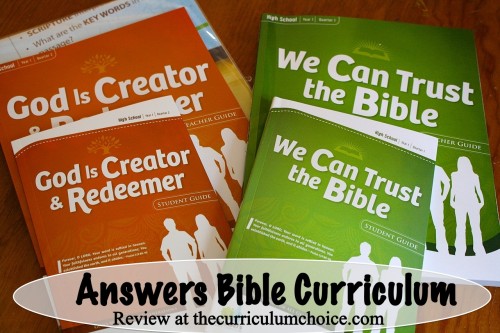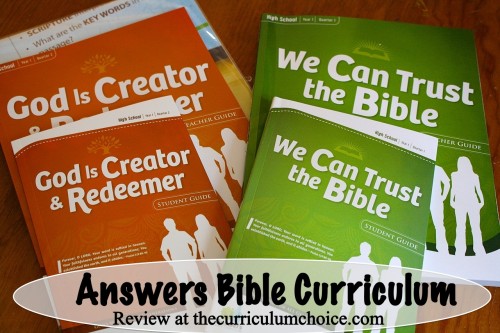 Yes, we study the Bible as a family, we often have an evening devotion time. We carefully choose curriculum that is Christ-centered. We attend a Bible-believing church and Sunday school. But I had, in my heart, been searching for something just for my young adults. A challenging resource, rich in learning. A resource we could partner with in our parenting.
So, when I read the mission statement on the inside of the Answers Bible Curriculum Teacher Guide, I knew that these were the resources we would partner with. Right in the teacher introduction:
Mission: Answers Bible Curriculum was developed to present the gospel, beginning in Genesis, to all generations; to train believers to know, obey, and defend God's Word; and to encourage believers to become conformed to the image of Christ.
What does Answers Bible Curriculum (ABC) High School Include?
I am reviewing the high school level curriculum but I want you to know that Answers Bible Curriculum is for all ages and is available for different age levels. In fact, my fellow bloggers are reviewing these. You can visit the Creation Museum site to view all the links to Answers Bible Curriculum reviews.
"Answers Bible Curriculum is a full-featured, chronological, 3-year Sunday school program, synchronized across seven age groups from preschool through adults. Each group covers Genesis through Revelation and learns the same material – but at different levels of depth – enabling exciting and easy discussion for the entire family!"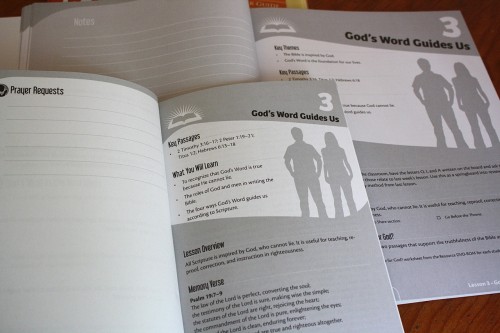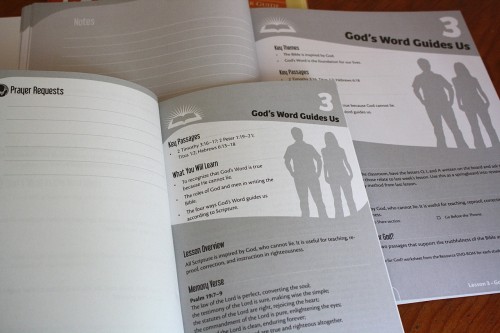 1. Student Guide – a quarterly book with lesson background information, class notes and personal application questions.
"Life-changing choices are made throughout high school. The urgent need to understand that the Bible is true and Jesus is the only way to heaven is at its peak in the teen years of intense adolescent pressures. This unique curriculum can solidify the faith of high-schoolers with its exciting apologetics-based teaching and chronological overview of the Bible! Teens will get answers to their big questions, and be equipped to confront the non-biblical worldviews that surround them."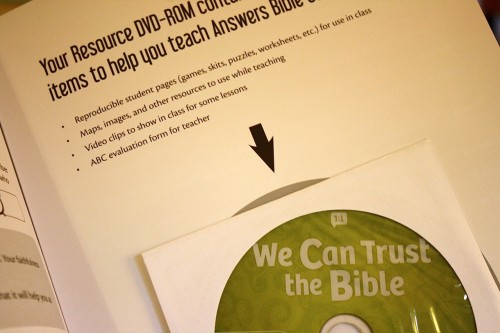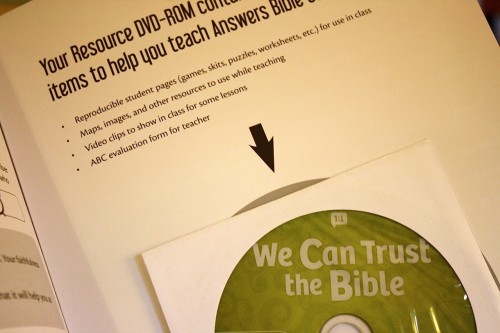 2. Teacher Guides – includes background material, detailed lesson plans and optional activities – making the lessons easy to teach.
3. DVD-ROM – with all the extras like in-class worksheets, videos and teacher helps – all ready to print.
But we are a homeschool family and this is Sunday school curriculum
You might be wondering how a curriculum designed for Sunday school would work in a homeschool. Yes, this is a Sunday school curriculum but why not use the best Bible curriculum and adapt it to your homeschool needs? Let me share with you how we have been using ABC.
How We Use Answers Bible Curriculum in Our Home
When we first opened the package, I pulled out the We Can Trust the Bible student guide and read the introduction aloud. That got my high schoolers' attention (as well as the rest of our children – kindergarten, second grade and sixth grade).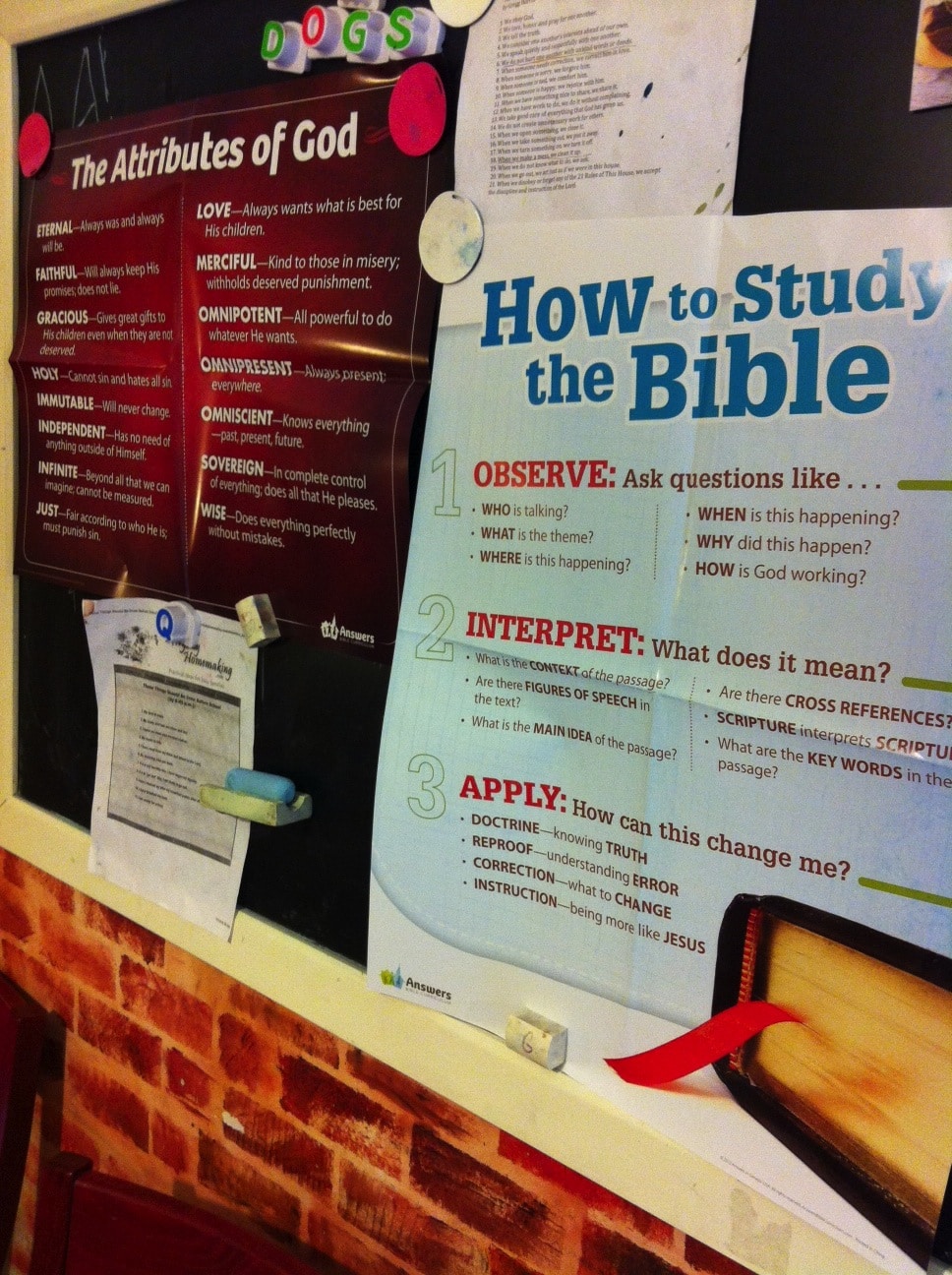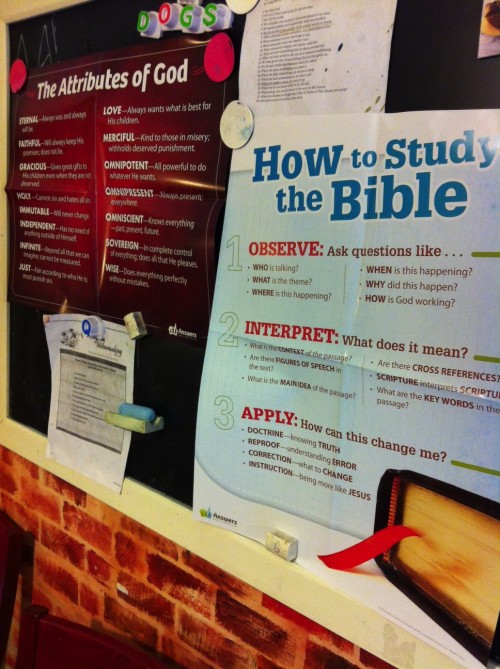 We have two high schoolers – a 10th grade girl and a 9th grade boy. Each have different learning styles. So reading the student guide and studying the posters appeals to my visual learner. While hearing the lesson and discussing the topics helps my auditory learner.
My husband was the one that introduced me to Answers in Genesis resources years ago, so naturally he was interested in ABC. Because of his interest, we have shifted our reading of the lesson to family devotional time. He reads the lesson and the discussion questions prompt wonderful talks that all our ages contribute to.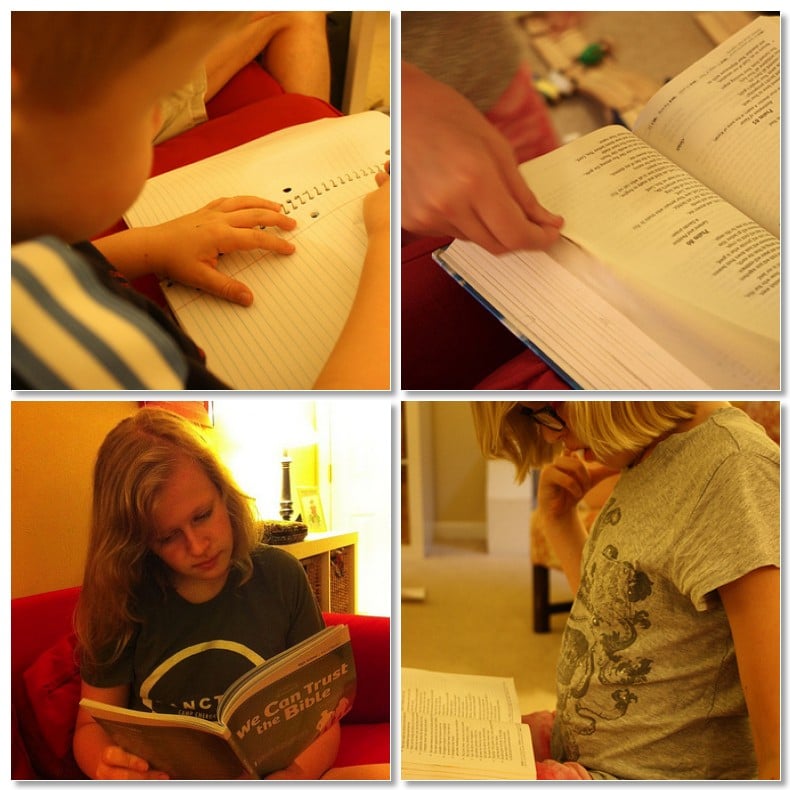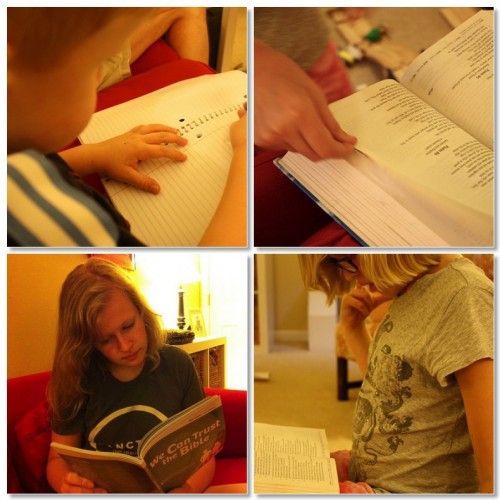 We also found that rather than do one lesson all in one evening that it was best to spread out the lesson over the week, discussing key concepts. This offers everyone a focused discussion on topics, practice in looking up Bible verses and reading aloud. A chance to share thoughts.
Does it sound like we've turned this high school Bible study into a family study? Yes we have! But the student guide offers my high schoolers independent study time during the week which I feel is important in our young adults' lives. Remember I said I had been searching for something just for my young adults.
With quarters 1 and 2 of the high school level ABC study, our high schoolers will continue to have rich Bible learning. Quarter 1 is foundational for understanding the Bible and the character of God. This starting quarter offers the framework for understanding Biblical history. Quarter 2 builds upon that foundation, walking through the Bible, starting with creation. We look forward to more family devotion time as well as in depth Bible study this year in our homeschool!
What Does Answers Bible Curriculum Teach? What are the Key Concepts?
View a video and more resources at the Answers Bible Curriculum site, where Ken Ham answers, "Why ABC?"
The Bible is Trustworthy – We can trust all of God's Word.
God's Attributes – God's attributes are displayed throughout the Bible.
Chronological/Historical Teaching – The Bible presents true history, not just "stories."
The Bible's Redemption – God's plan of redemption is woven throughout Scripture.
Apologetics – We must be ready to give an answer for what we believe.
Life Application – We are to live in light of what the Bible teaches.
I also know that Answers Bible Curriculum would be great in a Vacation Bible School setting as well as in regular Sunday school and small groups.
Find Answers Bible Curriculum
Need more detail on all the grades? Would you like to try it out? See the full scope and sequence and download free sample lessons at AnswersBibleCurriculum.com
View a video of frequently asked questions.
"Imagine what would happen if churches began raising up generations of people who knew how to defend the Christian faith and stand solidly on the Word of God. They could answer the skeptical questions of this age and present the gospel in a powerful way. Wow! It would change the world." Ken Ham, CEO, Answers in Genesis
Again, if you'd like more detail about the grade levels available, my fellow homeschool bloggers are reviewing all the different age levels of Answers Bible Curriculum – find their links at the Creation Museum site.
Special Offer!
For Curriculum Choice readers, Answers in Genesis is offering a special! FREE shipping and a FREE subscription to Answers Magazine with any purchase of $100 or more! Use discount code 137ABC5
Now for the Answers Bible Curriculum Giveaway!
One winner will receive ABC Sunday School Quarter 1 & 2 (level is winner's choice). Just follow the instructions in the rafflecopter widget below.
a Rafflecopter giveaway

Homeschooling for over a dozen years now, Tricia faces a daily dose of chaos with five children from preschool to high school. She shares a mixture of art lessons, recipes and helpful homeschool habits at Hodgepodge. She and her husband, Steve (who writes app and technology reviews), are co-owners of Curriculum Choice.