I can't even describe how excited I am about a new curriculum I've been pouring through for next year!  Normally, I wouldn't post about products that aren't tried and true, but this is an amazing exception.  I couldn't write curriculum that is more "me"!  And just what is "me" and what does this curriculum offer that's has me so giddy?
It's project-based
Fits with the first year of my four-year history cycle (ancient history)
Has a Biblically-based, creation-based worldview
Includes living literature book lists and listening CD's
Offers my children choices in their studies
Can be used with both of my older children at their own levels
Provides in-depth learning for the real student
Offers an activity book for younger children which helps with my upcoming 5th grader when other lessons might be too tough
Incorporates research, writing, timelines, vocabulary, art, mapping, science projects, music, cooking, drama, and MORE!
Gives ideas specifically for various learning styles
Provides me with a teacher's guide and my children with a workbook
So, just what product has me so excited?
Ancient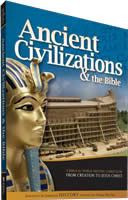 Civilizations and the Bible: A Biblical World History Curriculum from Creation to Jesus Christ by Diana Waring
Wow!  That's really the best word to describe what I think every time I open the box of curriculum and start thinking about next year's history.  In fact, I'm thinking I'll be able to tick off way more than just history in my lesson planner by implementing this curriculum.
I'm going to back up and go through each part of the curriculum that's available.  I'll have to be brief because there's way more to this box than I can talk about in a review.  I'll also give you my opinion about whether or not each part is necessary.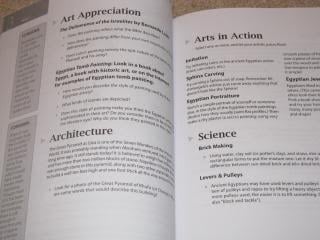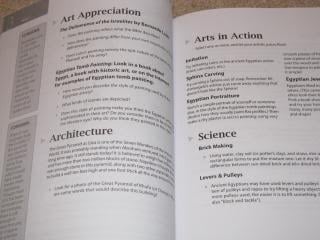 Sample page from the student manual.
Student Manual – Absolutely necessary and best to have one per student.  This is the book your child will use for just about everything they do.  Text readings, what-to-do lists, digging deeper lists, student record keeping charts, project choices and directions, vocabulary lists, maps and a few other things are found in this 312 page softcover workbook/textbook.   (*I use the word text loosely, because it isn't a dry, boring text like many books.)
Teacher's Guide – I suppose it isn't absolutely necessary, but I wouldn't skip it.  It offers you clear and helpful notes for further discussion with your children – often helping you give Biblically scientific explanations.  It also offers you big-picture planning, ideas for helping your children choose projects that fit their learning styles, additional project ideas, answer keys, and solid explanations about how the curriculum works.
Test Kit – Not absolutely necessary, but offers good test taking practice.  This is a booklet that offers you two-page tests with answer keys for each of the nine units.  The tests require written answers with supporting points and vocabulary matching.
Elementary Activity Book – Not necessary at all, but very helpful if you have children younger than 5th or 6th grade that will be learning alongside older children.  It offers coloring and puzzle pages, simpler discussion questions, age appropriate additional reading lists, song lyrics, easier hands-on project ideas, and other games/activities that meet the needs of various learning styles.
What in the World? CD set – Not necessary, but awesome.  This set of four CD's includes Diana Waring telling more about the Bible, archaeology, and other scientific evidences that have shaped history.  These stories, ranging from 3-12 minutes, go along with the text as "added bonus" information.  They add a wonderful dimension to the program.
True Tales CD set – Not necessary, but awesome.  Diana Waring is a wonderful story-teller and adds to the text info with stories about people, events and more.
Digging Deeper CD set – Not necessary, but awesome.  Just as the name describes, Diana Waring goes into more detail about the topics of Noah's Ark, the first Christmas and the Seven Wonders of the World.  (*Each track on the 3 CD sets is referred to in the teacher's guide and student manual, so you know what to listen to when.)
*I'm editing this just a bit after reading several comments by experienced users about how wonderful the CD's are.  I, too, think the CD's are super and would highly recommend purchasing them if you are able.  However, if you only want/can afford the bare minimum, the CD's are not necessary to the completion of the program.  If at all able, though, don't miss out on them!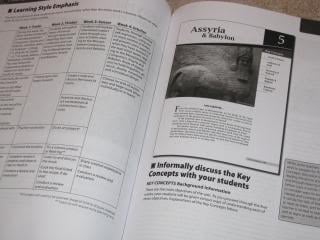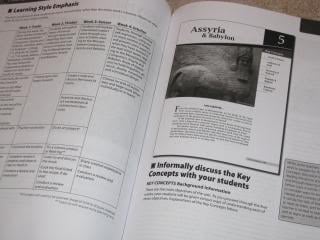 Sample page from the teacher's guide.
I'm going to wrap this super-long review up with a quick overview of the nine units.  Each of the nine units is meant to take four weeks to complete.  During each unit, week one is dedicated to reading and discussing.  The student dives in and learns all he or she can about the unit topic.  Week two is dedicated to researching a topic of the student's choice and presenting findings, as well as completing a timeline and the vocabulary.  Week three allows the student to complete hands-on projects in art, music, science, cooking and/or mapping.  And during week four, the unit culminates with a final project(s) of the student's choice.
Unit topics include:
Creation and the Flood
The Rise of Civilizations
Egypt and the Exodus
The Children of Israel
Assyria & Babylon
The Persians & Medes
Greece & the Hellenists
The Rise of Rome
Jesus Christ, Immanuel
I truly have never seen a curriculum like this before, especially for the 6th grade and above crowd.  Hands down, it tops my list of all-time favorites!