I remember little from history classes in school other than that I struggled to memorize names and dates.  My first foray into history as a homeschool mom was a Revolutionary War unit study from Homeschool Share.
As we read books together about the fascinating people and dramatic events I realized that history is a great story!  From then on I vowed to use quality literature as our history curriculum.  Thankfully I stumbled upon my favorite history resource during our first year and I've been using it regularly every since.
All Through The Ages: History Through Literature Guide
All Through The Ages was written to fill the need that author Christine Miller recognized of finding living books for history study.  This one-stop resource lists over 7,000 books recommended by respected sources: companies such as Beautiful Feet and Sonlight, books like Honey for a Child's Heart, award lists such as Newbery and Pulitzer (you can visit the website for a full list of resources).
Before finding All Through The Ages I would check several book lists when planning our history studies, trying to sort out which books would be appropriate for my children's ages (reading independently and aloud) and cover the topics I wanted to focus on. I had a hard time keeping track of which lists I had checked and realized I would have to repeat the process for our next historical period and when the same time period came around again in a few years.
Features of All Through The Ages
The book lists for each time period are divided into age groups (from 1st to 12th grade) and topics (Overview of the Era, Specific Events, Biography, Historical Fiction, Literature, Culture).  In addition to lists for historical eras from Creation to the Modern Era, there are sections covering the history of geographical regions, and also the history of science and math, visual arts and music.
Along with the title and author she includes a short note for each book: the specific event or dates covered, for biographies a reminder of what that person did, and extra information like that the book contains beautiful illustrations or authentic journal excerpts.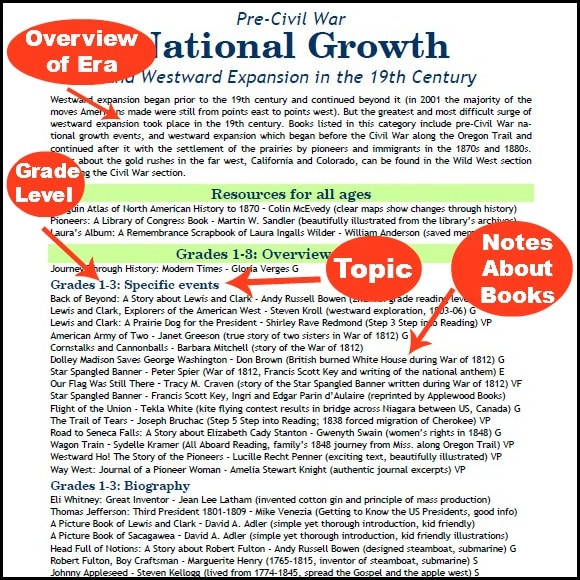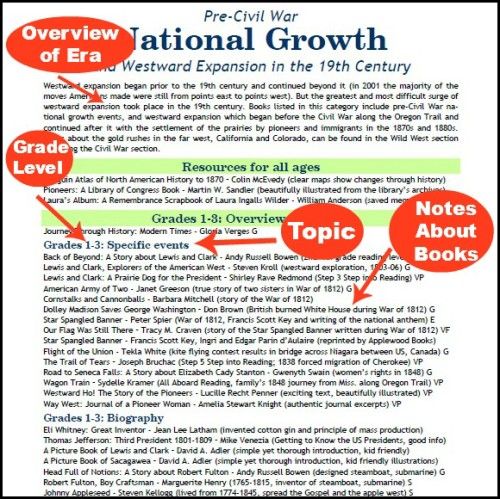 This isn't just a list of books.  The introduction is a great overview of studying history chronologically using "living books" and has example sequences of study. There is also a short overview and a timeline for each era which is helpful for ideas of topics to cover.
This is a valuable resource for homeschool planning if you desire to learn history through quality literature.  It's well organized, easy to use, and saves time.  Not many resources can help all the way from first grade through high school and provide the flexibility to go up or down in age depending on your children and the particular topic.
With this book and a library card you could have a full history curriculum throughout your child's education.  It can appeal to all styles of homeschooling, whether Charlotte Mason purists who want to simply read and narrate or those who prefer a unit study approach with related crafts and recipes (in the culture section you can find hands-on history activity books)!  Even in combination with another history curriculum it's a great source for go-along books.
Where Can You Find All Through The Ages?
The publisher, Nothing New Press, has sample pages on their website and you can purchase the book in print or as an ebook directly from them.  The printed book is also available from Rainbow Resources.
Heidi homeschools her two children in Maine using an eclectic mix including Charlotte Mason's ideas, quality literature and hands-on learning. She strives to show her children that learning is an exciting, life long adventure. She shares their experiences on her blog, Home Schoolroom.