On any given day a stranger stumbling unsuspecting into our home could—and should—expect to meet with any of a large variety of animals.  The possibilities range from the exotic to the mundane:  a maned wolf, a gorilla, a fox, a hippo, a mountain goat, a cheetah, a cat, a puppy.  The animals residing here really just depend upon the current whimsy of my three very imaginative children, whose active minds allow them to take on the characteristics of any animal with which they have become familiar.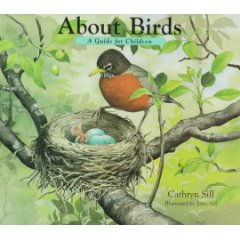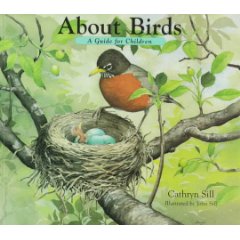 Perhaps it comes as no surprise for me to share that we are studying animals in science.  In fact, we have so enjoyed our time with the animals that I have extended it well into the scheduled human body time.  And I am not one bit sorry.
The kiddos and I have particularly enjoyed a series of books that we have checked out from the library written by Cathryn Sill and illustrated by her husband John Sill.  Each title includes the word "about" along with the variety of animal found in the book, and is subtitled A Guide for Children.  There are currently twelve books in the animal series, most of which detail a phylum or class of animal, though a few are more specific.
●About Birds
●About Mammals
●About Reptiles
●About Insects
●About Amphibians
●About Fish
●About Arachnids
●About Crustaceans
●About Mollusks
●About Marsupials
●About Rodents
●About Penguins
There are also three books in a series called About Habitats.  Included are Desserts, Wetlands, and Mountains.
The animal books are written with deceptive simplicity and contain beautiful, realistic illustrations of the animals in their natural habitat. About Fish opens with a two-page spread and the statement "Fish live in water." It is accompanied by a picture of a brown trout swimming between two rocks.  The next couple of two- page spreads assert that "(t)hey may be found in nearly freezing water . . . or in warm tropical water." There are pictures of an arctic char hovering in water below a thick coating of ice and a queen angelfish in a coral reef.  The book covers the topics of fins, gills, scales, camouflage and other protective devices, schools, fish eggs, live baby fish, fish as plant and meat eaters, and ends by touching on a note about conservation and the importance of fish to the world as a whole.  All information is written in single sentence format and accompanied by a stunning picture.
All of the books in the series utilize a similar format.  Each contains simple, but informative sentences and lovely pictures, which are organized into two-page spreads.  Each book ends with a statement that the animals being studied are important. About Birds discusses feathers, baby birds hatching from eggs, a variety of nests, bird movement (flying, swimming, and running), flocking birds, solitary birds, the use of bills, bird song, bird size, and the importance of birds. About Mammals tells us that mammals have hair or fur, drink milk from their mothers, that some are born helpless while others must move soon after they are born, move by running, climbing, swimming, or flying, eat meat, plants, or both, live in cold, hot, and wet places, and that mammals must be protected.  The end of each book includes an index of the illustrations and additional information to go along with each picture.
I have found the series to be perfect for my budding naturalists, offering just the right information for my lower elementary and preschool children. The language is efficient, but precise, providing an excellent foundation for further study. Of course, the illustrations are truly the crowning glory of each book. It was an added benefit to realize that each book is inscribed with a tribute "To the One who made the . . ." and names the animal group found within that particular book.
The About . . . animals series by the Sills combines beauty with information in an irresistible way.
Most days find Susan on the couch reading to her children, in the floor "playing" math, and generally in the middle of a good-sized mess.  A love for the Lord, a love for her little ones, and a love of learning have led Susan and that  wonderful man she married to an educational philosophy that is Well-Trained Mind-inspired classical and Charlotte Mason, with a touch of the traditional.