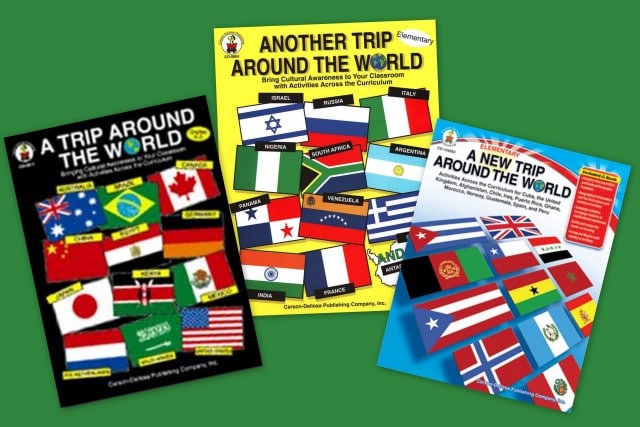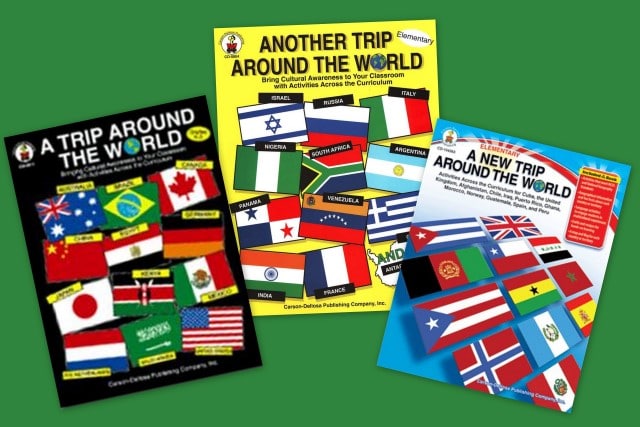 I have three reproducible books from Carson Dellosa Publishing that have been helping us in our studies of different countries.  They are a series geared for elementary ages.  The first book, A Trip Around the World, helps you and your children explore life in Mexico, Brazil, Egypt, Kenya, Germany, the Netherlands, Saudi Arabia, China, Japan, Australia, Canada, and the United States.  Another Trip Around the World takes you to Panama, Venezuela, Argentina, Antarctica, South Africa, Nigeria, Israel, Greece, Italy, France, Russia, and India.  A New Trip Around the World covers 12 more countries: Puerto Rico, Guatemala, Cuba, Peru, Chile, Spain, the United Kingdom, Norway, Iraq, Afghanistan, Ghana, and Morocco.  All three books are similarly laid out, each country's section has the following:
Basic Information – area, population, flag descriptions, etc.
Fascinating Facts – This could be sports, animals, education, or historical, among other things.
Language activities
Recipes
Printable maps, flags, and a worksheet
Classroom activity ideas and a resource list to find more books
I really like these books and they are the first ones I read when we get ready to start learning about a new country. Why?  Because I get a great, succinct orientation to the country myself, one that gives me ideas of some of the possible topics we can study that relate to the country.  I admit, I am not as familiar with life in other countries as I could be, so I really like having this one-stop spot for familiarizing myself with the basics and some interesting facts.  I have found these to be fun and add neat things to our Expedition Earth study for my 4th grader.  Read my review of Expedition Earth here.
I can see using these books as a simple, stand alone set of unit studies for a weekly 'country study' that happens one day each week. I know my children are enjoying our country studies, and even when we move to a science focus come January we can keep exploring the world in a quick way when we just need to shake things up a bit.
What are some of your favorite reproducible books? I would love to know if you have used these or others in your homeschool, so please leave a comment!
Written by Tristan, mom to 6 children ages 9 to newborn, homeschooling through unit studies with a side of lapbooks.  You can visit her at her blog, Our Busy Homeschool, or read her other Curriculum Choice posts here.