After publication of their classically-based homeschooling guide, The Well-Trained Mind, mother and daughter Jessie Wise and Susan Wise Bauer continued their streak of parent-friendly curricula with a variety of texts, including Mrs. Wise's First Language Lessons and, more recently, Dr. Bauer's first installment in the series The Complete Writer, which is titled Writing with Ease: Strong Fundamentals.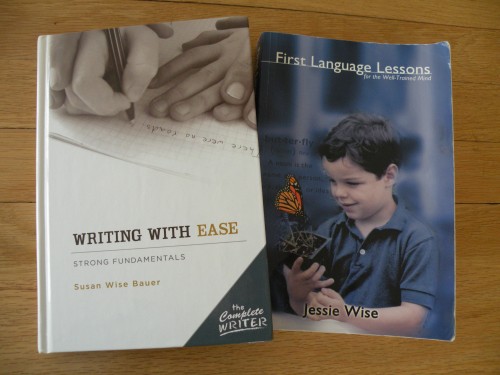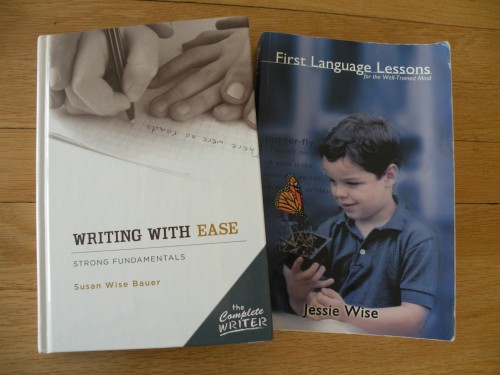 Both are on the first grade book list at my house.
First Language Lessons is a first and second grade grammar text. The lessons are short, but effective, methodically sharing language terms and ideas for a young audience.  Complete reviews can be found here and here.
Writing with Ease: Strong Fundamentals is a first through fourth grade writing text. It is the first installment of three writing guides.  They are sort of like timelines that provide a detailed, but gentle list of writing skills beginning with entry level narration and copywork.  The program will eventually progress through the middle school and high school years.  A detailed review of the system and the workbooks, which are available for the elementary levels, can be found here.
First grade at our house uses First Language Lessons and Writing with Ease as the base of the language program.  We have elected to use Writing with Ease: Strong Fundamentals without the workbooks that Dr. Bauer has written.  Even without the workbooks, the meshing of the two programs has been simple, as they were meant to complement and complete each other.
The books present the same ideas at the same time.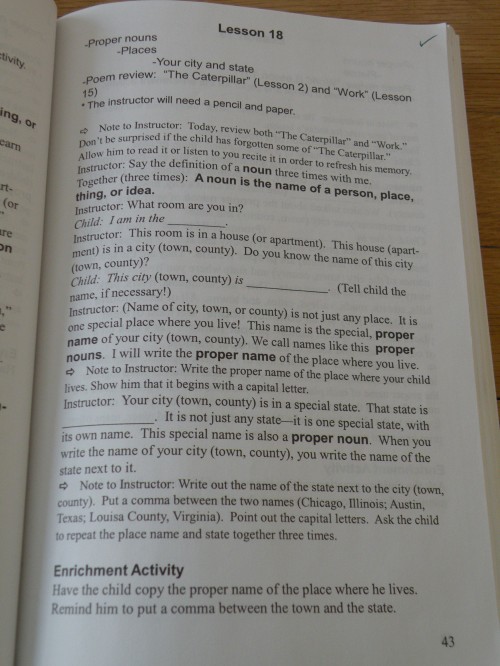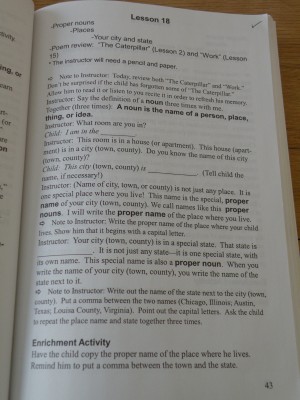 For example, First Language Lessons lesson 3 differentiates between common and proper nouns.  Lessons 10, 13, 14, 16, and 18-21 develop the idea of the proper noun as the name of a specific person or place.
Completing three lessons per week most weeks places these lessons of First Language Lessons during weeks 4 through 7 of Writing with Ease, which also deal with proper nouns.  The focus here, however, is not to identify a proper noun, but to write it correctly within the context of a sentence.
First Language Lessons is fully scripted.  Writing with Ease is not, but the book provides a full week's example each time the difficulty increases for the student.  The example is followed by a schedule that details the copywork and narration for the five to nine weeks until the next increase in difficulty or shift in focus.
At this point, as the teacher, I am charged with finding a sentence in my child's history, science, or other reading that contains, for example, a proper noun.  This is simple, as I can either use a sentence from the First Language Lessons lesson, choose one in our history reading, or create one using a family member's name and location.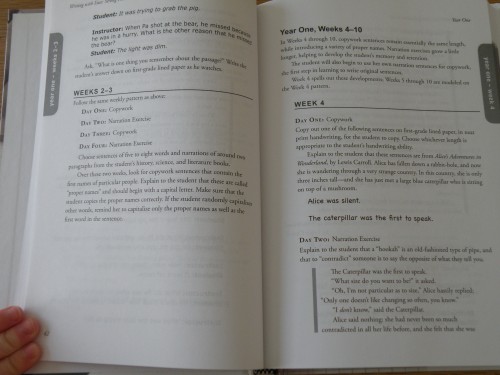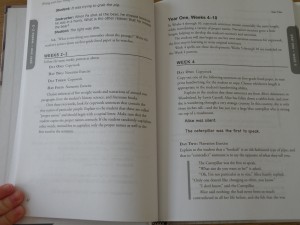 The instructions in Writing with Ease are extremely detailed for the teacher, leaving no guesswork. For weeks 5 to 6 the copywork sentences should contain as many proper people names as possible.  Weeks 7 to 8 move on to proper city names; weeks 9 to 10 incorporate the proper names of states.  Narration lengths—here of three short paragraphs—are also provided.
Real Learning at Our House
My daughter completes a short portion of copywork most days.  I have used a variety of sources, from the Bible to science sentences to artist sentences; I have used things I have bought and things I have made up on the spot.  So, it has been very easy to incorporate the sequence of grammatical information outlined in Writing with Ease.  Some of the time, the First Language Lessons lesson even contains appropriate sentences.  When it does not, I can quickly locate or make up a sentence that fits the bill.
For me, choosing copywork is the most time intensive part of using Writing with Ease without the workbook, and it has been simple and easy.
We narrate daily in our home, too, though it is rarely a formal affair.  When Daddy comes home for lunch, the kids tell him about their history lesson.  At dinner, we talk about the science reading or recount the read-aloud chapter.  A couple of times a week, I do ask my first grade daughter to illustrate her reading assignment and to summarize the reading orally.  I have not found it necessary to find extra things for her to narrate, as we have just used what we were already reading.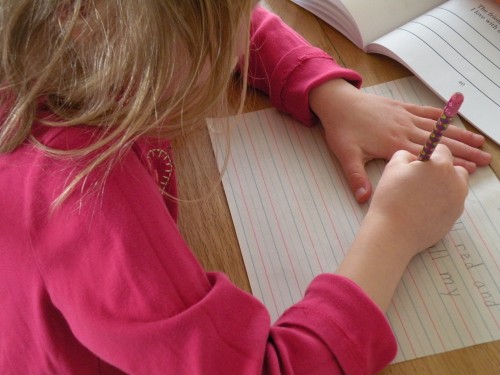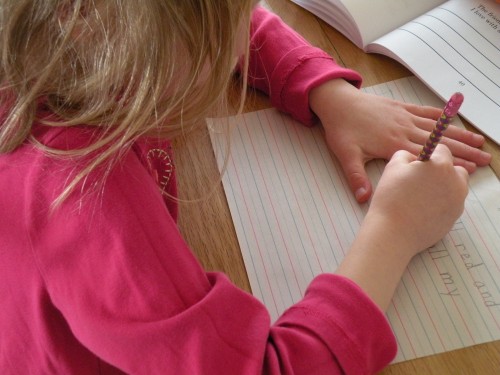 Because narration is such a natural part of our day and because I have already chosen full length texts as readers, it seemed to me that the workbooks would be repetitive, providing unnecessary and sometimes disconnected additional reading for my daughter.
A quick comparison of the table of contents of both books reveals that the ideas continue to be presented in First Language Lessons, and then fleshed out in Writing with Ease through the second grade year.  I do not have the third or fourth grade levels of First Language Lessons yet, but it would surprise me if they suddenly stop complementing one another.
These two books provide an excellent introduction to grammar and writing.
First Language Lessons has been effective and easy to use.
Writing with Ease: Strong Fundamentals has provided the blue print for beginning writing that is just what I need.
Most days find Susan on the couch reading to her children, in the floor "playing" math, and generally in the middle of a good-sized mess.  A love for the Lord, a love for her little ones, and a love of learning have led Susan and that  wonderful man she married to an educational philosophy that is Well-Trained Mind-inspired classical and Charlotte Mason, with a touch of the traditional.