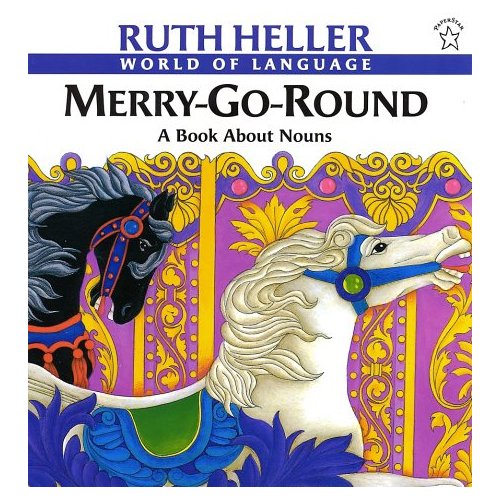 We chose Jessie Wise's First Language Lessons to introduce our daughter to all things grammar. I like the gentle, but persistent approach and the systematic introduction of grammar topics. But the truth is that I wanted more. I wanted to incorporate the living books philosophy that was so much a part of our other subjects. Happily, I stumbled upon a lovely collection of books by Ruth Heller. Called the World of Language, Heller's series is a delightful treasure trove of the parts of speech hidden in picture book form.
There are eight titles:
●Merry-Go-Round A Book About Nouns
●A Cache of Jewels and Other Collective Nouns
●Mine, All Mine A Book About Pronouns
●Kites Sail High A Book About Verbs
●Many Luscious Lollipops A Book About Adjectives
●Up, Up, and Away A Book About Adverbs
●Behind the Mask A Book About Prepositions
●Fantastic! Wow! And Unreal! A Book About Interjections and Conjunctions
Each book defines the part of speech, discusses its parts and intricacies, and provides examples in a poetic, rhyming text. Beautiful artwork graces the pages, bringing the ideas to life. Merry-Go-Round, for example, begins by defining the word noun.
"NOUNS name a person, place or thing . . . a damsel, a forest, a dragon, a king. These NOUNS are all COMMON, and they're very nice, but PROPER NOUNS are more precise. King Arthur is this person. This place is Camelot. PROPER NOUNS are capitalized. COMMON NOUNS are not."
This particular passage covers two two-page spreads and includes illustrations of a dragon in a forest with a damsel and another of a king inside a castle. The book next discusses abstract nouns, concrete nouns, compound nouns, and collective nouns. Singular and plural nouns and the methods of forming them follow, along with possessives and determiners (articles).
We are thoroughly enjoying the rhyming, lyrical text and the beautiful illustrations. As we read each book, my daughter makes her own pages to illustrate the elements of each part of speech. This method has complemented and extended the systematic introduction of the parts of speech offered by First Language Lessons.
The lovely pictures alone are enough reason to read this series, but the information in them provides an excellent, living supplement to any grammar study. Enjoy Ruth Heller's World of Language!
Susan is a homeschooling mom of three—a preschooler, an almost kindergartner, and a first grader. They spend their days reading on the couch, playing with numbers, and making big, fun messes in a Spirit-led, Well-Trained Mind-inspired classical-Charlotte Mason-traditional model of home education.