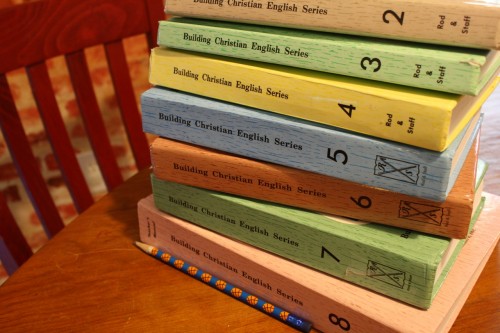 I was reminded again why we'll be heading into our sixth year enjoying Rod and Staff English. Yesterday, third grader and I read…
How sweet are thy words unto my taste! Yea, sweeter than honey to my mouth! Psalm 119:103
The assignment to emphasize that when we read God's word we "should be careful to get all the good sweetness we can…
…We must not read so quickly that we miss the important truths God wants to teach us. Nor should we read so slowly that our minds wander and bits of truth slip away."
Further on the assignment was to copy and memorize the above verse. I adore that we are using God's word to study English.
Just the day before we read sentences, pictured above. Do you see the names of Biblical cities? Goshen. Tarshish. Some of these might be difficult for a third grader to read. But why shy away from them? Practice pronouncing them now for confidence later.
In our home, many times we do the lessons orally. The curriculum is written for a classroom, so we adapt. The children and I can read through the written exercises together. Other times I ask that they do a writing assignment. There is a nice variation of poetry, writing and good old diagramming (in older grades). We simply buy a spiral notebook to accompany the grade – so all written assignments are in one spot.
We also don't begin grammar lessons until mid way through the second grade year. Even then we may only do a couple lessons a week. So far each of our children have enjoyed this series so much that they have each asked to do more. Now, my older three children head into their 4th, 7th and 8th grade years with Rod and Staff.
"I will meditate also of all thy work, and talk of thy doings." Psalm 77:12 – from inside cover of Preparing to Build, English 2
The verse we found at the bottom of another lesson, illustrated with clouds, butterflies and mushrooms….
Whatsoever things are true,

Whatsoever things are honest,

Whatsoever things are just,

Whatsoever things are pure,

Whatsoever things are lovely,

Whatsoever things are of good report;

think on these things.

–Philippians 4:8–
For a detailed listing of specific levels available and ordering information, please see Annie Kate's review: Rod and Staff Grammar or Kristen's review: Rod and Staff English.
~Tricia faces a daily dose of chaos homeschooling five children. She contributes a blend of writing at parenting and homeschool sites as well as her own daily Hodgepodge.