FTC Disclosure: I received All About Reading – Level 1 in return for an honest review at The Curriculum Choice. I am proud to be an affiliate for All About Reading and the links in this post are affiliate links. This means if you use my link and make a purchase I will receive a small commission.


All About Reading was one of those products that I had been itching to try for a while; so when it finally arrived in the mail thanks to the wonderful folks at All About Learning Press, I was actually a little nervous! I hoped and prayed that it would fit our family the way I had envisioned all those months!
I can tell you emphatically, it did. In fact, it went beyond my expectations.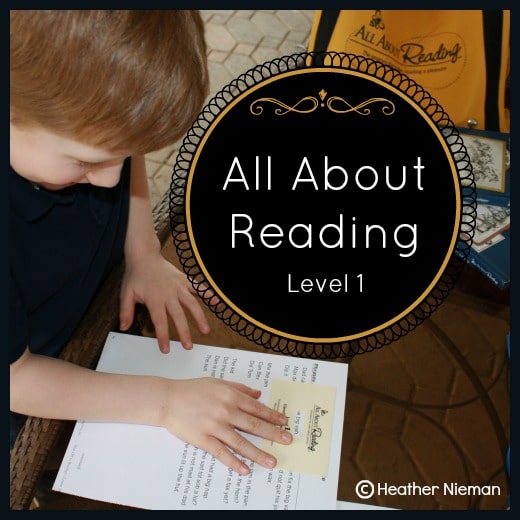 Why I Wanted to Try All About Reading
Billy is almost six, but had picked up reading some words here and there on his own. I saw this great potential in him and wanted so much to fan that flame – without blowing it out! I wanted to give him the keys that could unlock reading for him and give him the gift of being able to read on his own.
Some of you know that our homeschool is delight-directed and that Billy is a kinesthetic learner – but that I am a born and bred classroom teacher. I wasn't sure how a reading "curriculum" with planned lessons was going to work for Billy (I knew I would like it!), but I was reassured by the fact that All About Reading was made for every type of learner.
Let me tell you, All About Reading has been a perfect fit, for both of us.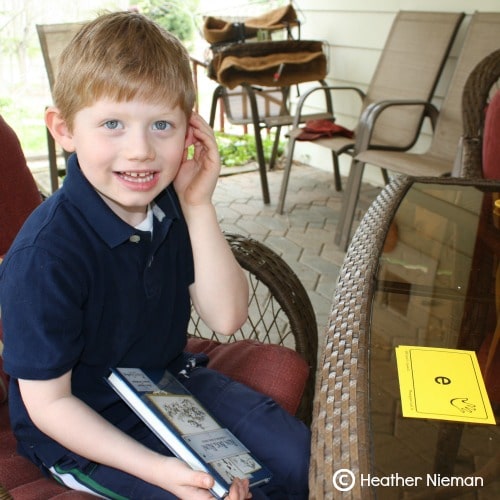 How It Works – For Both of Us
The multi-sensory approach is exactly what Billy needs. There is CD software that will sound out the phonograms for you, letter and word cards to flip through, letter tiles to arrange and re-arrange, pages to color/games to play and even a sticker to put on your chart at the end of the lesson. If I need him to not touch, I let him color the activity page while we work through the lesson or find something else to occupy his hands. Sometimes I just let him hold the cards as he works his way through.
I absolutely love that the lessons are ready-to-go, easy to implement and mastery based. I even get my own "Teacher's Manual" that walks me through each lesson (lightly-scripted, easy to customize!) and has some really helpful tips to let me know if we're on the right track! I also love that All About Reading is based on the Orton-Gillingham method.
Billy's biggest obstacle is simply that he wants to go fast. He will mis-read a word because he wants to get it out as quickly as possible. Yet, even when we need to go back and review a word he has trouble with, the techniques in All About Reading have helped me remind him to slow down, sound it out and construct the word. Each time he finally gets a word right – he beams. Most times just going through the process helps him remember and easily recall that word in the future.
Part of the All About Reading program are short stories collected in books that the child can read on his/her own. I was so happy to hear Billy read through a whole story all by himself for the first time – and he was so proud. I can see the sense of accomplishment on his face, and I know it is building excitement and increasing the joy of reading for him – exactly what I had prayed for.
At the end of each lesson, the program recommends that you spend 20 minutes reading a book, stories or poetry out loud to your child. I am so appreciative of this emphasis on reading great literature to our kids and getting them excited about the worlds great books can take us to. However, this is one area where we stray from the program a bit. After sitting through a whole lesson, Billy is done. We usually take a break and do our read-aloud time later.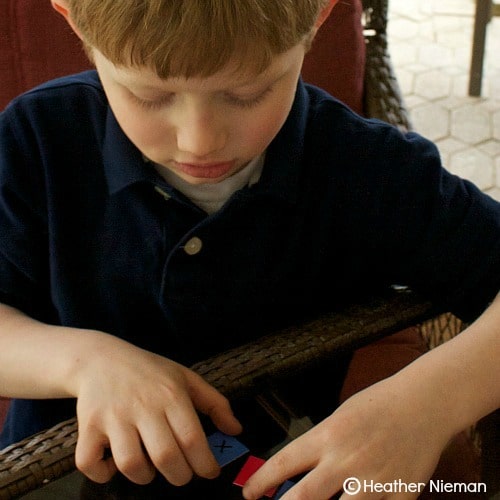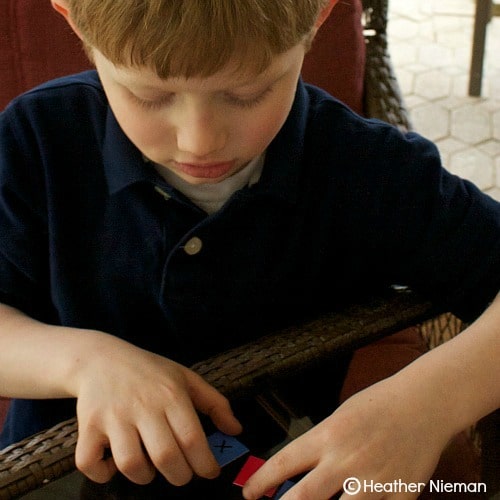 What I Love
The best part about each lesson for me is watching him make the associations between the a word on paper, what it means and how it is used in a sentence. Many times we'll build and read a word and then he will (on his own) make up a little sentence that uses that word. This tells me that the lessons in All About Reading are more than just an exercise to him, this is exactly what he needed to turn those abstract letters on the paper or screen into a language that he can understand.
And Billy LOVES the program! Most nights (we do our lessons after dinner) he asks me if it's time for All About Reading yet. He looks forward to each lesson, and that's delight-directed enough for me!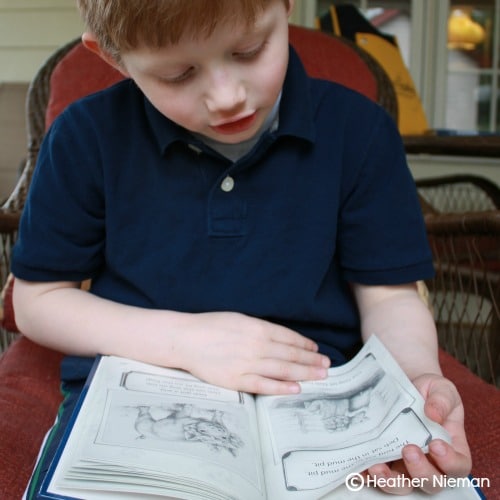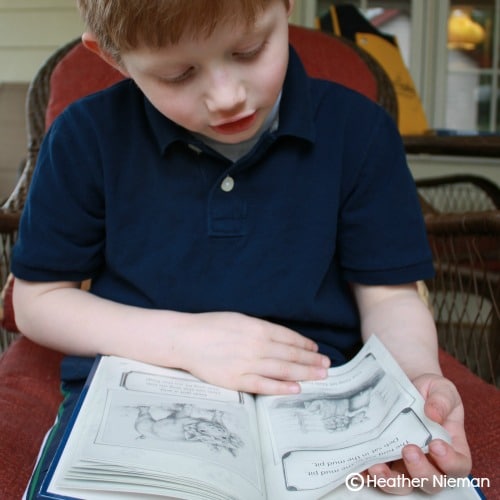 My Tips for You
Get everything set up the day BEFORE you do your first lesson. Billy saw me looking through the kit and, naturally, wanted to dive right in. Well, there are some things you need to do first to prepare the cards and tiles and it will be much easier to accomplish those tasks without an eager student asking if you're "ready yet?"
If you choose to use the CD for the phonogram sounds, know that each letter button will play all phonogram sounds for that letter. I would prefer if you could select which sound you would like to hear for each letter, then I could let Billy use the program to hear and practice; right now hearing all the possible sounds is a little confusing for Billy.
If you can get a magnet board to use with the letter tiles, use it. I don't have one set up because I know the tiles would "disappear" at the hands of little ones. If could have a board set up and ready to go, though, it would save me a bit of prep time before our lesson. Instead, each night I sort through our bag of letter tiles to find the ones I need; but at least I know where they are! Whichever way works for you, do it.
Go at your own pace. If you need to end a lesson early, do it. Go back to it the next day. If you want to go through 2 lessons in 1 day (sometimes easy to do) then do it! When your child has mastered the material, you move on. I love that about this program!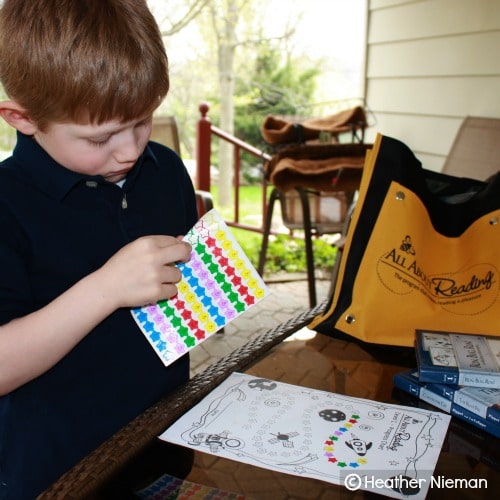 For more information and to take a free placement test, head over to All About Reading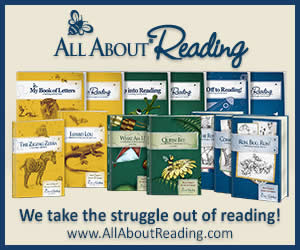 ~Written by Heather N, Homeschooling on Faith and Coffee