Crafty. Creative. Busy. Reader. Writer. Tween.
Do you have one of those too? Yes, I have a tween girl who thrives on creative projects. So when we had a chance to review the New Millenium Girls Creative Writing Bundle by Jan May, I knew it was for us.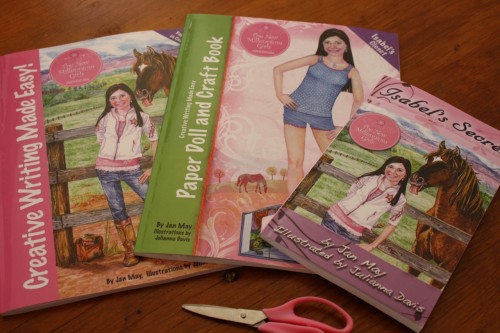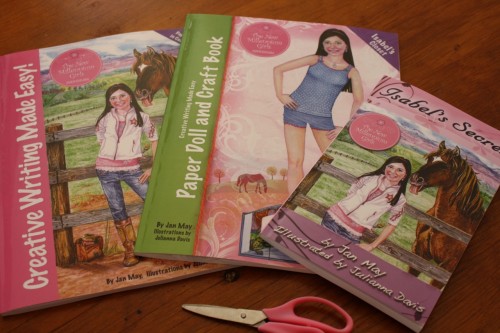 What's included in the bundle? (Each of the following. Each also available for purchase separately):
1. Isabel's Secret – paperback
"Isabel is a spirited eleven- year-old girl who lives on Angel Ridge Horse Ranch in Colorado. Her Christian motto ever since she was three years old has been: "Winners never quit and quitters never win, for I serve the mighty God that lives deep within!" Isabel and her horse, Starlight, go to girl's camp, head on a hunt to find out a family secret, all the while taking a large journey in faith.
2. Creative Writing Made Easy Curriculum
Here is just one area this writing course stands out: each lesson has three sections which include 1) learning time 2) writing time and 3) craft time.
Writing space is provided right in the workbook. "On the next page, write the beginning of your story. Try to write at least six sentences…introduce your main character and the problem she must solve."
12 lessons which teach the basics of creative writing. Great for a beginner or advanced writer.
For grades 3-6
12 week course leads up to the student completing a story and an illustrated cover.
Includes fill-in-the-blank type writing prompts to create and develop a character.
Biblical examples for developing story ideas and choosing a theme (complete with a story web for your daughter to fill in)
"The Bible says, "God has not given us a spirit of fear, but of love, power and a sound mind." (II Timothy 1:7) He also says that He will never leave us, so we know that we can rely on His strength to help us in our time of need. Make a list of things a person might be afraid of."
Practical suggestions like "Use every other line when writing your story. It will make it easier when you want to add things in later."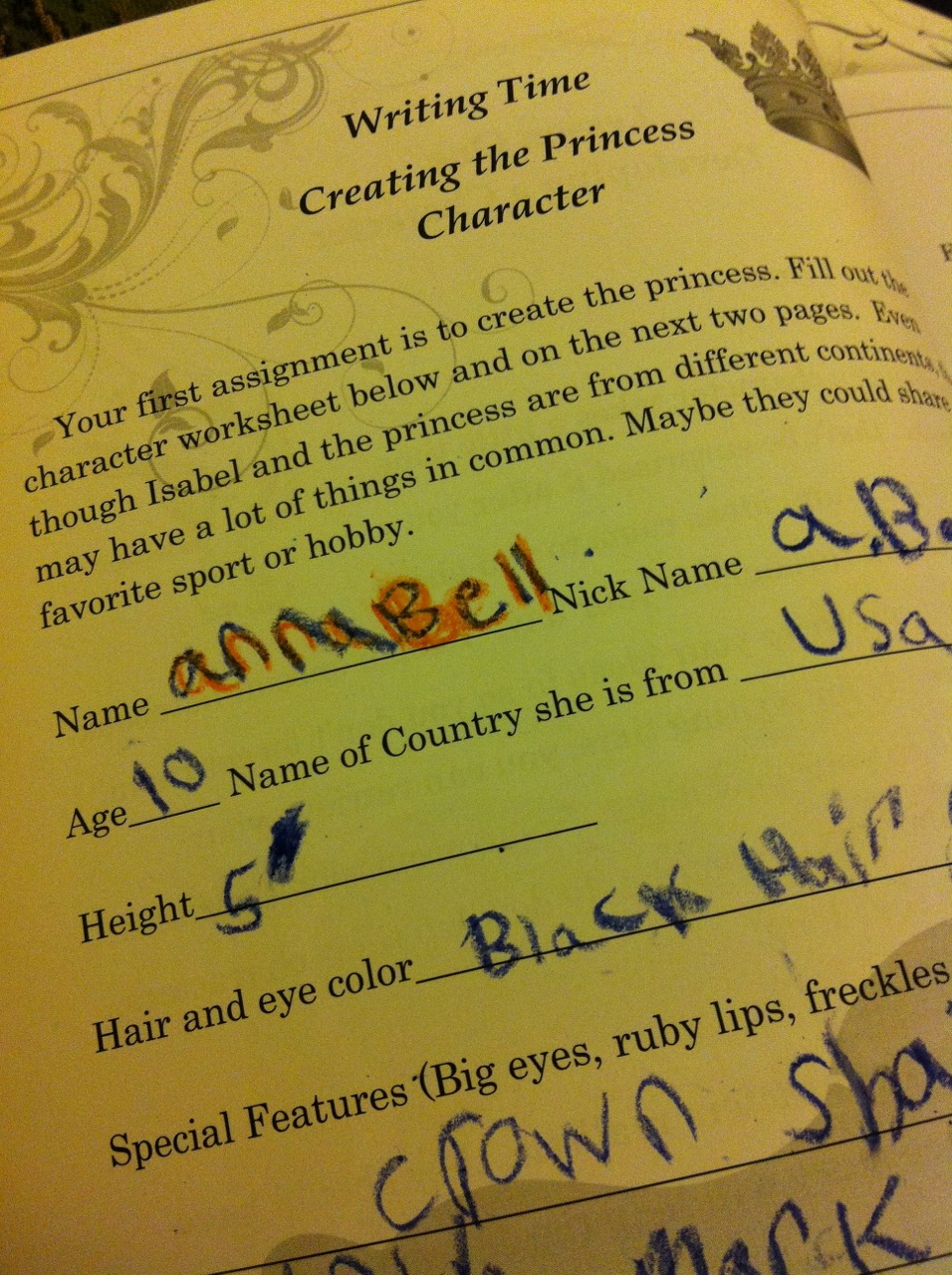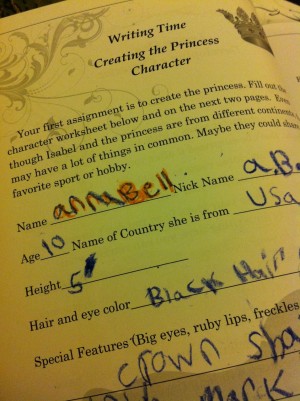 What impressed me as the teacher about the writing curriculum? As I helped and encouraged my daughter along I was impressed that these smaller lessons were building a habit of writing in a fun way. Building on some concepts she already knew. Introducing new concepts – with the promise of craft time to follow! My daughter had fun with writing. She and I looked forward to our times. It was ready-made mother/daughter time! But there were also days that she quietly went off and spent an afternoon writing, creating and crafting.
3. Paper Doll and Craft Book
Includes Isabel paper doll on the cover, two princess paper dolls inside, paper doll stands on back cover, 16 pages of clothes for Isabel, 16 pages of clothes for the princess (casual, evening, party, riding wear as well as hair styles), two horses and riders, How to Build Isabel's Bedroom instruction pages.
"This curriculum can be used in your homeschool or with a group. It's also a super summer project. It can be celebrated at the end of the course with a tea party and fashion show with the outfits the girls made for their paper dolls."
The paper dolls made for hours of cutting, decorating and simple play time.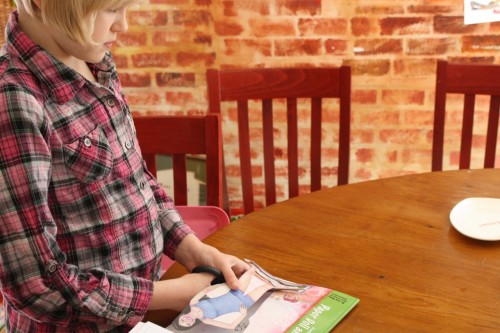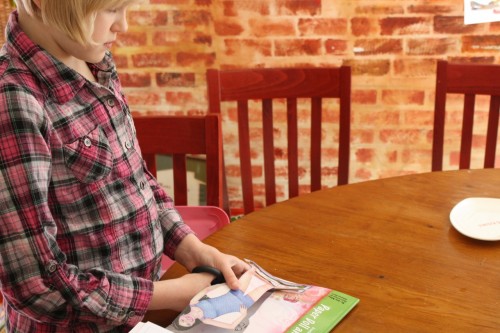 What did we enjoy about this writing bundle? The craftiness, of course. Paper dolls. The creative writing aspect. Developing characters, building confidence in writing skills.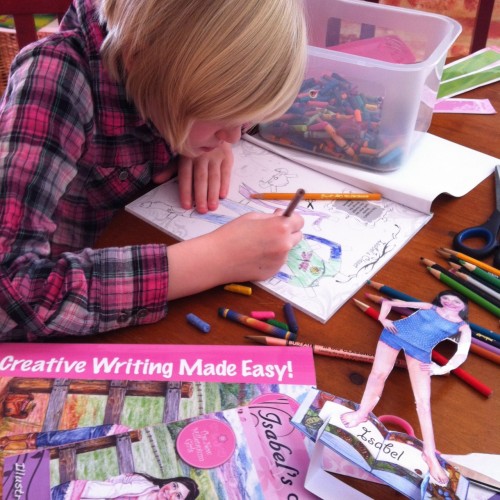 What I love, as a parent, is the fun my daughter has and the Biblical foundation throughout these products.
What ages? Designed for ages: 8-12 and/or grades 3-6
Isabel's Secret: $7.95 ~ ebook special $2.99 and also available for Kindle
Creative Writing Made Easy workbook: currently 20% for $ 13.56  ~ available for download for $7.96
Paper Doll and Craft Book: $13.56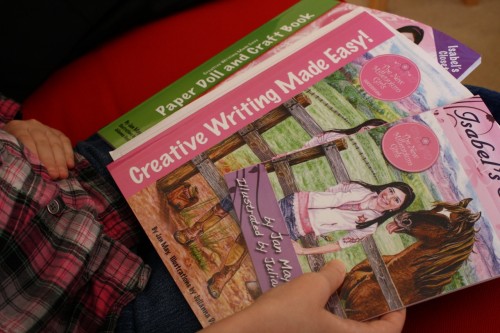 From New Millennium Girls:
Wonderful Homeschool Writing Books and Chapter Books for Girls that Inspire Faith. Writing Books for Boys that keep them coming back for more!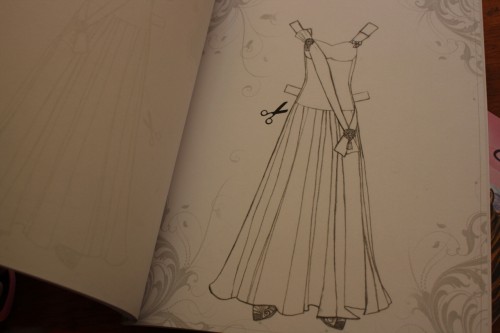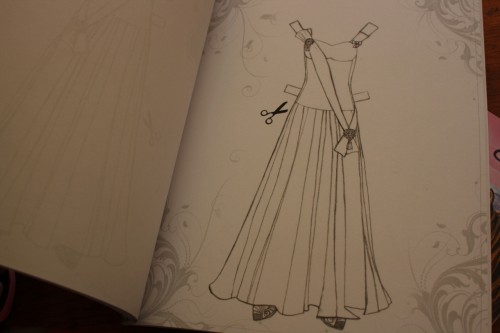 "Encouraging Christian faith in the next generation" plus just good ol' crafting fun.
"What is a New Millennium Girl? She is an ordinary girl with faith in an extraordinary God, growing up in this New Millennium. Like Joshua and Caleb, she chooses to see that God is bigger than any giants she has to face. She is mighty in spirit, part of the Joshua generation, a New Millennium Girl.

It is both a privilege and challenge to raise daughters of righteousness in this world. My prayer is that the Lord will use this curriculum to inspire daughters for His glory." ~ author, Jan May

Free Shipping on the full writing bundle! For one week only, when you order the full bundle, you will receive free shipping on your purchase. This offer good through March 21st only.
Now for the giveaway! Jan May, author of the New Milennium Girls series is offering a spring bundle to one of our readers. The bundle includes all three books shown in the pictured and listed above. A $29.95 value!
Tricia has been homeschooling for over a decade now. She faces a daily dose of chaos balancing the needs of five children from preschool to middle school (and playing educational games) at Hodgepodge.