As an eclectic/Charlotte Mason homeschooler, we have used many wonderful resources over the years, but only two or three have always had a firm place in our home. One of those is Learning Language Arts Through Literature – The Gray Book by Diane Welch and Susan Simpson (published by Common Sense Press). We started on the Blue (grade 1) and Yellow (grade 3) books in our first year. Each year we were excited to open up a new grade level, browse through the pages and look at what books we would be reading alongside our daily lessons.
English lessons have never once been a chore with this curriculum – honestly! Our girls have loved each and every Learning Language Arts Through Literature (Llatl) book and I have to say that it has prepared them well, given them a solid grounding in grammar, writing, vocabulary and exposed them to lots of wonderful classical literature.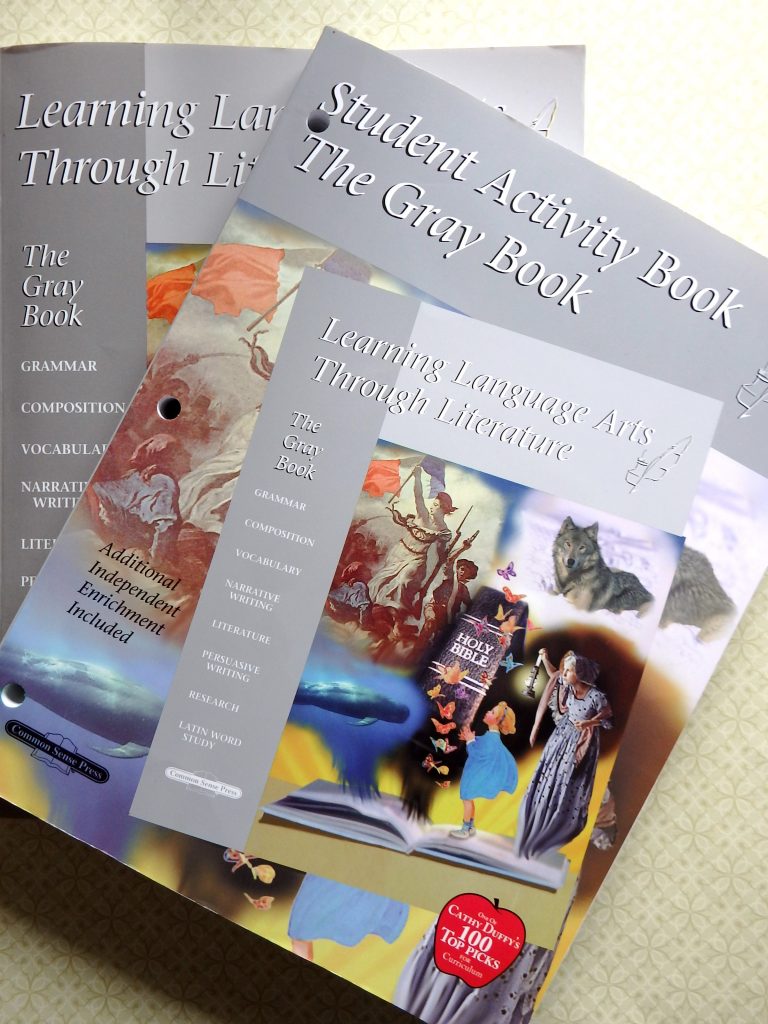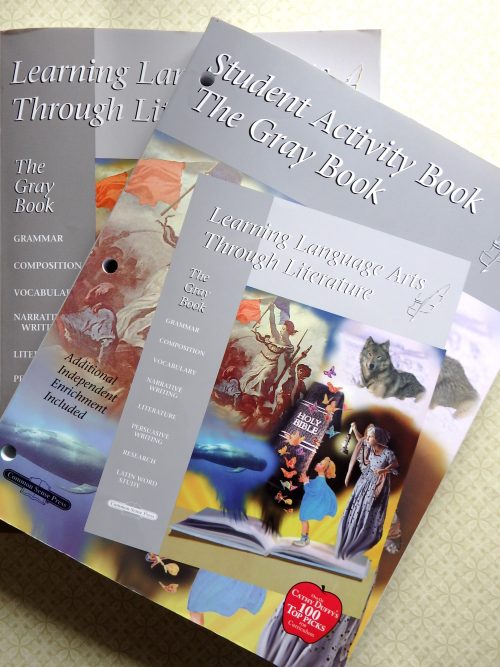 Today I am going to review the Gray Llatl Book – Eighth Grade Skills.
There are 36 weekly lessons divided into daily lesson plans. So you will have Lesson 1 for the week and each day denoted by its number eg. 1. a, b, c. –  2. a, b, c, d, e – etc. On the first day of the weeks lesson there is a dictation exercise which is fabulous. This trains the child to listen carefully to your voice for any pauses, inflections and of course being attentive to what you are reading. In the beginning I found I had to repeat the sentences a few times but as their habit of attending to the lesson grew stronger they were able to listen to the sentence once and then write it out. The length of the dictation lesson increases with each grade and thus the child's ability. Spelling words are taken from those that are misspelled in the literature passage,  which is wonderful in my opinion as they are words taken within context and therefore mean something to the child – this in contrast to lists of random spelling words.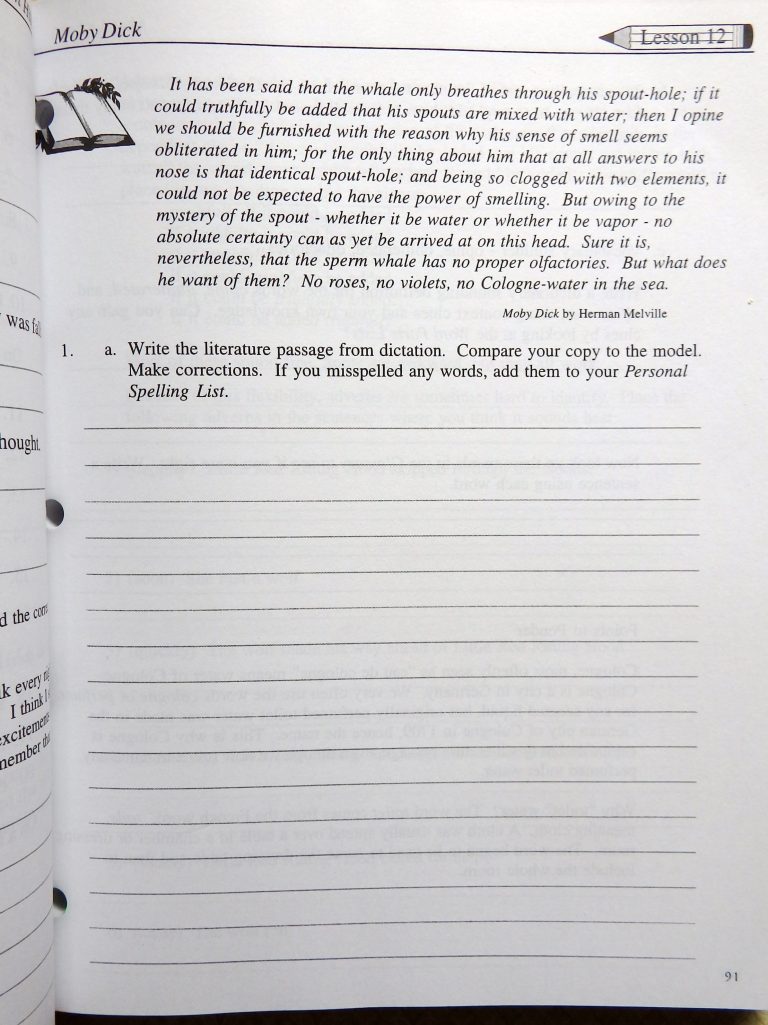 I love that through dictation the student learns all about punctuation, capitalization, parts of speech, grammar, creative writing and a love of classical literature is encouraged through the carefully chosen excerpts.
The teachers manual has all the same activities that the student book has except you have all the answers of course!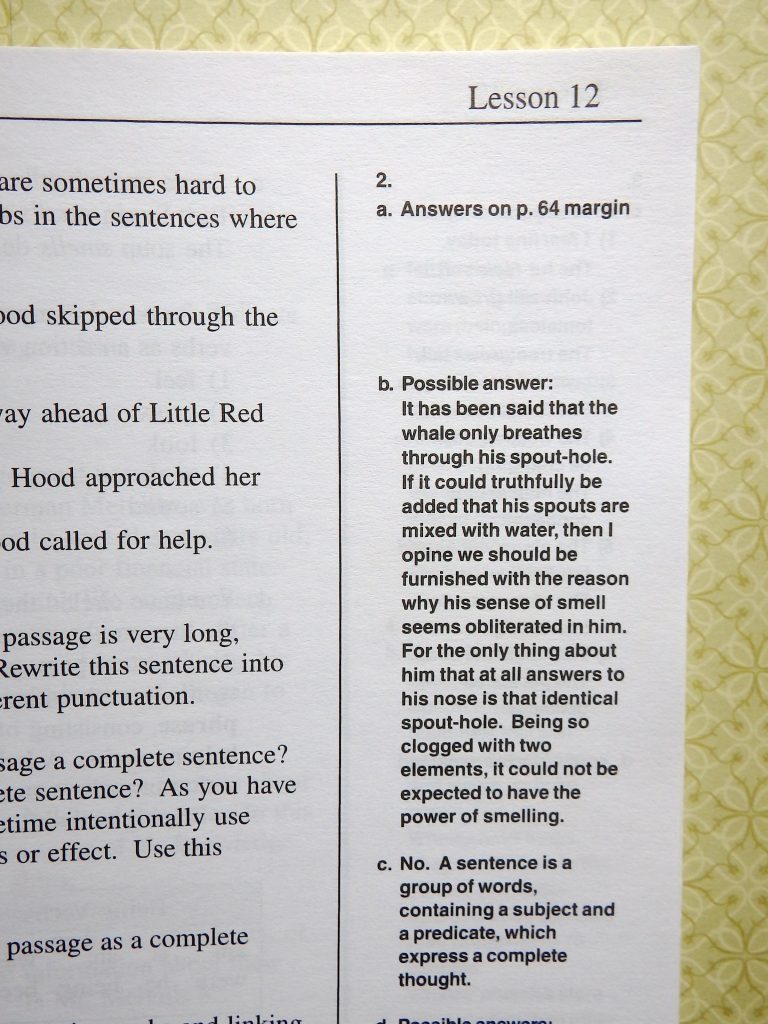 All the lessons are integrated, so you will cover grammar, spelling, study skills and higher order thinking every week. This curriculum is teacher friendly with just about no prep work needed. There are regular assessments throughout so that you can see how well your student is getting on and skills index which gives you an easy skills reference.
Now, a few things that are specific to the Gray Llatl book:
There are

4 book studies

in this year. The books your student will read are:
*Across Five Aprils by Irene Hunt
*A Lantern in Her Hand by Bess Streeter Aldrich
*Eric Liddell by Catherine Swift
*God's Smuggler by Brother Andrew
This year the student will continue to

build and improve on their spelling skills

by covering 10 words a week from the Commonly Misspelled Word List.

There is a 5 week writing unit!

This is something I was very happy to see as it is essential that the home schooled student be able to stand out in their writing skills for college and university later on. You can never have enough writing practice in my opinion!
Lots of vocabulary building exercises and continued study of suffixes, prefixes and root words to help prepare your student for college testing.
Just as a point of interest – I am a homeschooling mom who lives in the UK. Obviously Llatl is written for an American market taking into consideration America's criteria for college admission etc. In the UK, students sit GCSE's at 16 and then A-levels at 18. Students wishing to go to university would continue along an academic line and take their A-levels. Our daughter who is about to graduate our homeschool sat her English GCSE two years ago having only ever used Llatl and then working on a few past papers. She passed with no problem – not having done any of the UK curriculum and coursework that they cover in schools. I can only conclude that Llatl had given her a very solid grounding in her English skills.
We have really enjoyed the Gray Llatl and are looking forward to working through the Gold book (British Literature) in the next school year.
I hope this review aids you in your curriculum decisions for the upcoming academic year.
Save