It is confession time.
We used First Language Lessons this year for our language study.
We also used Language Lessons for the Very Young 1.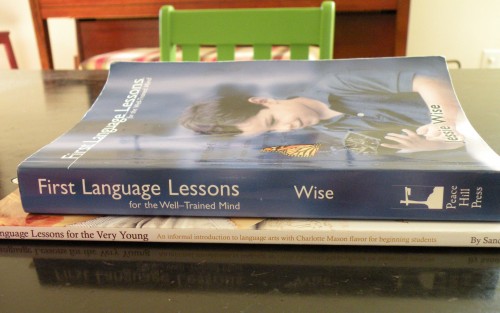 It is true.  I subjected my six-year old first grader to two different language books.  Gasp.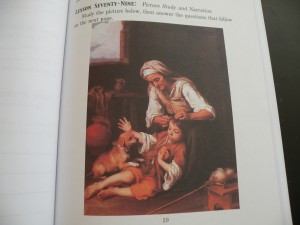 I had decided to use First Language Lessons when I saw the picture studies in Language Lessons for the Very Young 1.  The gorgeous, full-color reproductions of real art containing child-friendly subjects drew me in.  I ordered it, but I did so with no intentions of abandoning the copy of First Language Lessons that was already in my possession.

First Language Lessons is the first book in a series of elementary language texts by Jessie Wise.  It follows a classical method in line with The Well-Trained Mind, of which Mrs. Wise is a co-author.  The non-consumable, scripted book contains 100 first grade lessons and 100 second grade lessons.
First Language Lessons is complete and methodical, covering nouns, common nouns,
proper nouns, the four uses of verbs, the four types of sentences, along with several essential topics such as seasons, months, and days of the week.  The text also discusses the use of capitalization and end punctuation.  The lessons are cyclical.  A new topic is covered and then the old ones are reviewed.  In addition, it includes some copywork and a couple of black and white drawings for picture study.  It provides a complete early discussion of grammar topics in an adequate, appropriate manner.

Language Lessons for the Very Young 1 is one of a series of language books in the Charlotte Mason method.  It is written by Sandi Queen of Queen Homeschool and is intended for seven to nine year olds, but is appropriate for children who are reading fluently.  The book, intended to be consumable, contains 180 lessons to be completed in one school year.
Language Lessons for the Very Young 1 is gentle but also complete, covering capitalization in poems and sentences, nouns, identifying the subject and predicate of the sentence, singular and plural nouns, a vowel and consonant review, use of 'a' and 'an,' common and proper nouns, action verbs, identifying complete and incomplete sentences, and end punctuation.  New subjects are continually introduced, but there is plenty of review.  The lessons are very short, in keeping with the Charlotte Mason method, so though there are 180 lessons the book is easily completed in a year.  The text also contains six poems for copywork and memorization, each taking at least as many days to complete as there are stanzas in the poem, and six pieces of art work for picture study and follow-up discussion.  The lessons are integrated, so that poems, pictures, narrations, and grammar complement and complete each other.
The differences in the two books are subtle.  FLL uses parts of speech to build a grammar discussion, while LLVY begins with the sentence and progresses from there.  There are fewer lessons in FLL, but the length of LLVY is deceiving as it contains several series of lessons in which the student copies one stanza of a multi-stanza poem.  FLL contains a more focused, informative explanation of verbs, discussing the four categories of verbs with precision.  LLVY, on the other hand, covers the creation of sentences and the use of punctuation in more detail.  While both texts use poems for copywork and memorization, FLL utilizes shorter, nursery-rhyme-ish poems and LLVY uses longer, more intense selections.  Both also include picture studies, but LLVY provides lovely, full color reproductions of art, while FLL includes only non-descript pencil drawings.  FLL costs $18.95 and is intended for use over two years of study, while LLVY covers one year and costs $22.95.
Another difference in the two books is that one is a classical text and the other is
a Charlotte Mason text.  It is easy to discern Charlotte Mason's methodology in the poetry, copywork, and picture studies included in LLVY.  It is more difficult to recognize the parts to whole discussion of grammar that evolves in FLL's continuum from nouns, pronouns, and verbs to sentences, as compared to the use of the whole, sentences, to derive the parts in LLVY.
Both texts complete the objective of teaching grammar gently and completely to a young audience.  Though they use different methodologies and end with slightly different products, these two early elementary grammar texts are both excellent and useful.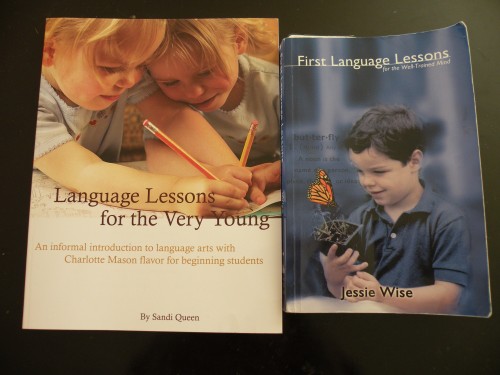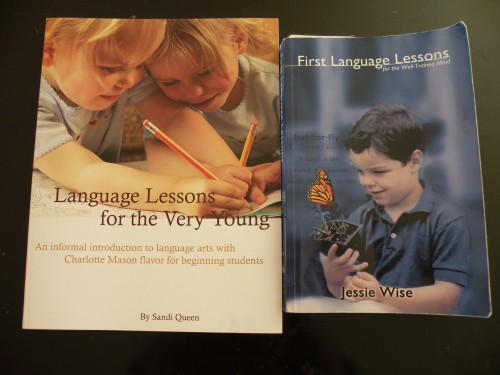 Back to my confession:  My daughter didn't mind using two grammar texts.  As far as she knew, it was what all the cool kids were doing for language.
Personally, though I know that it was not necessary, I liked it.  Because the two books approached grammar from somewhat oppposite directions, I was able to effortlessly review and test her grammar knowledge retention over a school year and with two different approaches.  So, when she demonstrated knowledge, it was knowledge of grammar, not just understanding of a program and how it worked.
First Language Lessons and Language Lessons for the Very Young 1 utilize different methods to reach a common purpose.  I am delighted to recommend both of them (seperately or together) to you for your grammar needs!
Most days find Susan on the couch reading to her children, in the floor "playing" math, and generally in the middle of a good-sized mess.  A love for the Lord, a love for her little ones, and a love of learning have led Susan and that  wonderful man she married to an educational philosophy that is Well-Trained Mind-inspired classical and Charlotte Mason, with a touch of the traditional.